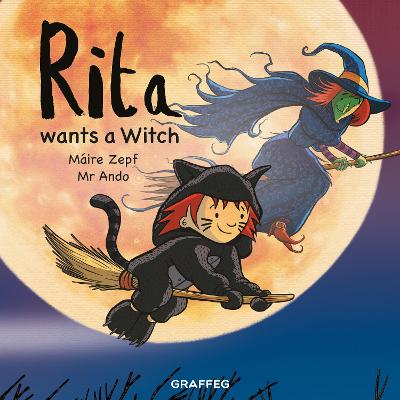 By Author / Illustrator
Maire Zepf, Mr Ando
Genre
Picture Books
Age range(s)
5+
Publisher
Graffeg Limited
ISBN
9781802580402
Format
Paperback / softback
Published
28-10-2021
Reviews
Maria
Rita wants a witch! A witch wouldn't make her go to bed, be clean, wash up or do homework. Rita could help her witch with magic potions and spells. A witch could teach bullies a lesson and turn teachers into frogs!
Rita's wishes turn to thoughts. She hopes her witch wouldn't be too spooky and give her nightmares, or scare away her friends. What if her witch was nasty or wanted goodnight kisses? What if she cooked revolting, witchy food for every meal? Upon reflection, Rita wonders if a witch is a good idea. It could ruin everything, and where would it end? Rita decides a witch isn't such a good idea. Well, not a real one anyway!
Rita Wants a Witch is a simple story that helps children to clearly see that not all wishes are for the best and encourages children to be grateful for what they have. With beautifully bold and bright illustrations, children will quickly understand the story and be able to share their thoughts and ideas whilst reflecting on own experiences.
Picture book / Reviewed by Maria Faithorn, teacher
Suggested Reading Age 5+
Other titles