Rita Wong and the Jade Mask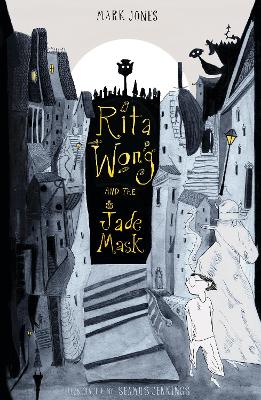 By Author / Illustrator
Mark Jones
Genre
Mystery & Detective
Age range(s)
9+
Publisher
Everything with Words
ISBN
9781911427186
Format
Paperback / softback
Published
30-09-2021
Synopsis
A fast detective thriller. Rita Wong lives an ordinary life in Morecambe. That's until she pursues a dragon called Lester Thyme into Neon City where the streets are dark with magic. Lester and Rita become detectives for hire. Their first case involves a vampires, stolen swords and a body suspended in lemonade. A breakneck detective story set in a landscape studded with danger, lots of chocolate doughnuts, and lashings of humour.
'A brilliant cast of fantastical characters' GET KIDS INTO BOOKS 'Hold on to your seat, believe in the powerful magic of the storytelling, and you will be rewarded with a tale full of danger, mystery, subterfuge and lots of humour as this amazing story leads Wong and Thyme and the reader into a world that is enticingly scary and full of mind-bending surprises.' SCHOOL READING LIST
Reviews
Kristen
Rita Wong has recently moved to Morecambe and lives an ordinary life, but feeling homesick, she longs for a little adventure. One day, she finds herself following a dragon and stumbles upon the entrance to the mysterious Neon City. The dragon is Lester Thyme and he has fallen on hard times. Rita encourages him to work again, and together, they become private detectives, investigating a series of crimes that are seemingly connected and involve all manner of creatures from vampires to dwarves.
Rita Wong and the Jade Mask is funny, dark, witty, odd and most definitely intriguing. I love books with maps in and found myself poring over the details on the one at the start of this book. I liked that it included details about where some of the events in the book happened.
Children aged 9 and up who enjoy detective and mystery stories will love this. I'm hoping there will be a chance to explore more of Neon City!
304 pages / Reviewed by Kirsten Hopwood, teacher
Suggested Reading Age 9+
Other titles