Ruby Ali's Mission Break Up: A Bloomsbury Reader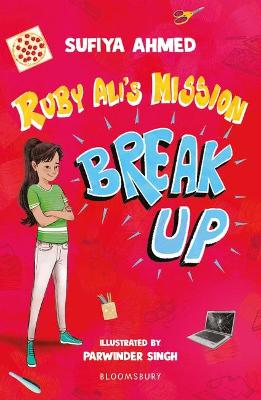 By Author / Illustrator
Sufiya Ahmed, Parwinder Singh
Genre
Family & Home
Age range(s)
9+
Publisher
Bloomsbury Publishing PLC
ISBN
9781472993175
Format
Paperback / softback
Published
19-08-2021
Synopsis
A contemporary story about life in foster care, perfect for fans of Jacqueline Wilson. Ruby Ali's 18-year-old sister Alisha has left the care centre where they live, and Ruby is being sent to live with a new foster family. If she can sabotage life at her new home, she'll get to go and live with her sister again, right? But mission break up doesn't go exactly according to plan... This funny, heart-warming story features black-and-white illustrations by Parwinder Singh. 
The Bloomsbury Readers series is packed with book-banded stories to get children reading independently in Key Stage 2 by award-winning authors like double Carnegie Medal winner Geraldine McCaughrean and Waterstones Prize winner Patrice Lawrence. With black and white illustrations and online guided reading notes written by the Centre for Literacy in Primary Education (CLPE), this series is ideal for home and school. Book Band: Dark Red (Ideal for ages 10+). For more information visit www.bloomsburyguidedreading.com.
Reviews
Kristen
Ruby and her sister Alisha have been fostered by many families over the years but they have always been together. Now, however, Alisha is 18 and not allowed to stay in care any more, which means that Ruby will be fostered on her own. And she's not happy about it! Before she even meets her new foster parents, Ruby decides she's going on a mission to be so awful that no one will want to foster her and she'll have to go and live with her sister. She's learnt a lot of pranks and tricks over the years from Alisha and puts them into action as soon as she arrives at her new foster home. She doesn't expect her foster parents, Cheryl and Jim, to be as good at pranks as she is though, which makes her mission a little bit harder than she expected.
I loved this book for its humour but also its honesty about Ruby's feelings of abandonment and loneliness at living without her sister. Ruby doesn't expect Cheryl and Jim to be as welcoming and patient with her as they are and she doesn't know how to deal with how that makes her feel. I found myself rooting for Ruby throughout but also really wanting her to get along with Cheryl and Jim.
Another brilliant short-chapter book aligned to the coloured book bands for children relatively new to books with chapters or those who struggle to stick with a longer book. Older children in Year 5 and 6 would also enjoy this book as the main character is 12.
96 pages / Ages 9+ / Reviewed by Kristen Hopwood, teacher
Suggested Reading Age 9+
Other titles