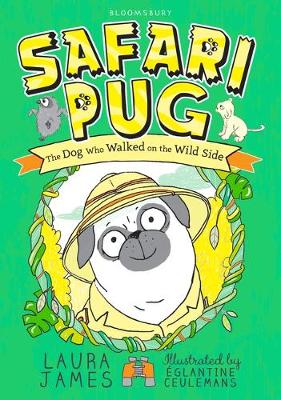 By Author / Illustrator
Laura James, Eglantine Ceulemans
Genre
Animals
Age range(s)
5+
Publisher
Bloomsbury Publishing PLC
ISBN
9781408866405
Format
Paperback / softback
Published
02-11-2017
Synopsis
When Pug and Lady Miranda have a scary run-in with a lion one night (it might be hiding under the bed), Lady M decides Pug needs to face his fears and go on safari. Pug goes a bit wobbly when he finds out he'll be coming nose to nose with Florence, the rare white lion cub, but he soon realises that lions may not be the most dangerous thing in the wildlife park ...
Safari Pug is the third book in Laura James's beloved illustrated series about roly-poly Pug and his human, Lady Miranda. It is is perfect for fans of Claude and Squishy McFluff.

A great book with lovely pictures and typography for five- to seven-year-olds who are starting to read for themselves and like dogs with multiple chins - The Times on COWBOY PUG
Reviews
Dawn
The third adventure of Pug with his owner, the child Lady Miranda. Again Pug finds himself in strange situations without quite knowing how he got there. After a nightmare one night, Lady Miranda passes the blame onto Pug and announces Pug needs to face his fear of lions and go on safari. Pug has never met a lion, but Lady Miranda's reaction and later, that of the Safari Park's ticket lady, meant he really didn't want to. The duo travel to the local Safari Park in their sedan chair, which has the ticket attendant worried about their safety. Barred from the lion enclosure, Lady Miranda settles for the Animal Adventure Land, which reassures Pug somewhat. Inside, unwittingly preventing the theft of firstly a penguin, then a meerkat, Pug is 'rewarded' with a meeting with Florence, the rare white lion cub. But so is the would-be thief, who then tries to make off with both Pug and Florence. Children will love meeting the animals Pug encounters, drawn quite realistically, but with humorous expressions from the cute baby penguins to the mischievous meerkats. The scheming Arlene Von Bling is pictured in more dangerous positions than Pug. Of course there is a moral when Arlene gets her just deserts, yet Lady Miranda still rescues her. For children starting to read confidently, this addition to the series of books about Pug will be just the right length for a manageable read. It also works well read aloud with short chapters keeping attention of one child at bedtime or a class full in school. 112 pages / Ages 5-8 years / Reviewed by Dawn Woods, librarian.
Suggested Reading Age 5+
Rachael
What a lovely book! The first thing that struck me were the illustrations in green and yellow, with their echoes of Dr Seuss. Seuss-like too was the way the story meandered and rambled through various unlikely scenarios, and yet it somehow still had one paw in reality. As I am used to reading books with 'messages', it was nice here just to read a book for sheer enjoyment and to enjoy the silliness of it. I think I have fallen in love with Pug, and I'm looking forward to finding out what he and Lady Miranda get up to next! 112 pages / Ages 7+ / Reviewed by Rachael Salmon
Suggested Reading Age 7+
Other titles