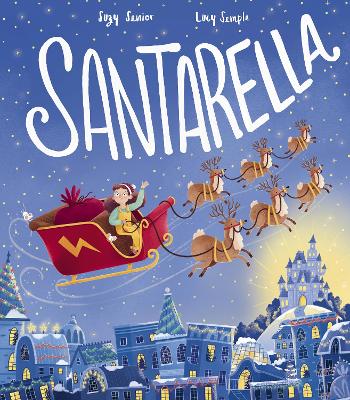 By Author / Illustrator
Suzy Senior, Lucy Semple
Genre
Fairy Tales & Folk Tales
Age range(s)
5+
Publisher
Little Tiger Press Group
ISBN
9781801045025
Format
Hardback
Published
12-10-2023
Synopsis
Santa meets Cinderella in this funny, fractured fairy tale by bestselling author Suzy Senior (Octopants, Unicorn Club, The Hotel for Bugs).
Oh no! It's a chilly, frosty Christmas Eve and Santa's hurt his back. He cannot fly the sleigh or even lift his sack! Is Christmas ruined? Not if Cinderella has anything to do with it! Leaving her mean step-sisters behind, she offers to give Santa a hand, and - along the way - travels the world. But Santa has one more gift in his sleigh. Could it be the chance for Cinderella to write her own happily-ever-after?
Packed with a rollicking rhyme and hilarious illustrations from Lucy Semple (Watch Out, Wolf! There's a Baddie in Your Book) this fab feminist retelling of a classic fairy tale challenges stereotypes and is a joy to read aloud. Fans of fractured fairy tales like Little Red by Bethan Woollvin, Fearless Fairy Tales by Konnie Huq, James Kay and Rikin Parekh, and The Fairytale Hairdresser and Father Christmas by Abie Longstaff and Lauren Beard, will love this joyous story full of festive magic and wonder.
Reviews
Jen
What a delightful tale! The book begins as all Cinderella stories do, with Cinderella being left with all the housework while her sisters swan off to a ball with the Prince. But then it changes. It's not a Fairy Godmother who rescues her but Santa himself. Cinderella sets of on a journey around the world, helping Santa with all the gifts. Santa gives Cinderella the chance to join the ball but, after experiencing the world, she decides to do something else....
Santarella is a book about knowing what you want and going for it. What is more interesting; a party, or seeing the world? A prince or making many new friends? Always having to do everything or choosing to help? I really liked the pages where Cinderella is delivering presents. I can imagine children getting out an atlas or plotting the route in Google maps. Where are all those place?
The illustrations by Lucy Semple are bright and cheery; Cinderella has so many different expression. Every picture tells it's own little story. A book to be enjoyed by parents and children.
Picture book / Reviewed by Jen Bevan
Suggested Reading Age 5+
Other titles