Science School: 30 Awesome STEM Experiments to Try at Home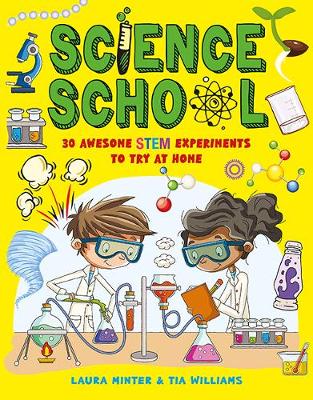 By Author / Illustrator
Tia Williams, Laura Minter
Genre
Non Fiction
Age range(s)
5+
Publisher
Button Books
ISBN
9781787081062
Format
Paperback / softback
Published
07-04-2021
Synopsis
This book teaches children about the basic principles of science through 30 exciting experiments and crafts that can be done at home, using everyday objects and materials around you. Why do bubbles hold their shape? How does an electric circuit work? What makes popcorn pop? Can an egg bounce? If you thought that science could only be practised wearing white coats in a sterile laboratory, think again! A brilliant way to link the STEM/STEAM themes being taught at school back to your home in a fun and fascinating way. Perfect for budding scientists who love to ask... 'why?' Activities include making slime, hot ice, baking soda fizz bombs, coloured milk, making your own crystals, invisible ink, soda bottle ecosystem and many more. AGES: 5 to 11
Reviews
Jennifer
This is a brilliantly appealing book of exciting STEM experiments using a range of easily sourced, inexpensive items. The book itself is a whopping A4 size and looks and feels glossy and quite luxurious! Each experiment is clearly explained with numbered and captioned instructions and great visuals; diagrams, drawings and bold, colourful full page photos.
The experiments themselves are as tactile as possible (making Waterproof Sand and Slime are just two that are bound to be favourites) with lots of immediate reactions and instant scientific gratification. Each experiment has a fantastic 'science made simple' explanation of the science behind the fun that is clear, concise and informative.
The book engages its young readers with the array of chemical changes and visual effects they will see as they conduct their experiments - lots of fizzing, colour changing sights and sounds . A brilliantly vibrant book to curious minds at home or in the classroom.
128 pages / Ages 5+ / Reviewed by Jennifer Caddick, teacher
Suggested Reading Age 5+
Other titles