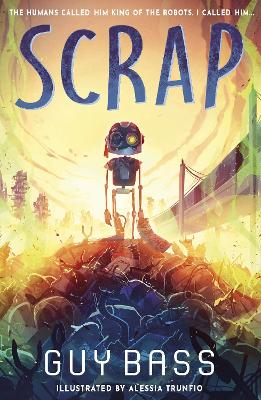 By Author / Illustrator
Guy Bass, Alessia Trunfio
Genre
Science Fiction
Age range(s)
9+
Publisher
Little Tiger Press Group
ISBN
9781788955973
Format
Paperback / softback
Published
12-10-2023
Synopsis
The year was Something Something. Humans had spread like peanut butter across the galaxy, looking for new planets to call Somewhere.  One of those planets was Somewhere Five One Three.

When the humans arrive on Somewhere 513, they discover that the robots sent to prepare the planet for Humanity's arrival have chosen to keep it for themselves. Only one robot remains loyal - K1-NG, aka King of the Robots. But even with the most powerful robot on their side, the outlawed humans don't stand a chance.

Ten years on, Gnat and her sister Paige are the only humans left and have spent their lives hidden underground. Now they must venture out in search of the one robot that stood by the humans. There's just one problem - the once mighty K1-NG has vowed never to help another human for as long as he lives...

The first in a hugely original and entertaining new trilogy for middle grade readers from the award-winning author of STITCH HEAD. For fans of Maz Evans and Thomas Taylor.
Find out more from author, Guy Bass, and enjoy a short reading from SCRAP:
Reviews
Donna
Scrap is a misfit and a loner, just how he likes it. A robot living out his existence on The Pile in Somewhere 513. He wasn't always this way; robots weren't always this way. In fact, Somewhere 513 was supposed to be the new place for humans to live. The robots had been sent in to get everything ready, to make everything right; everyone knew their place, everyone knew their job and the part they had in developing this new world. Then the Big Disagreement happened, and everything changed, and Scrap became Scrap. But then Gnat and Paige tracked him down, and reminded him of his old life, of his old promises. He didn't want to remember. He didn't want to be reminded anymore. But Gnat and Paige were two determined humans, alone in a world where humans had been banned and the only one who could get them to safety... was Scrap.
The perilous journey they must take brings them into contact with robots of all denominations, robots that have upgraded, robots that fight for entertainment, robots that track and kill, robots they can trust, and robots that they can't. Along their perilous path they unearth secrets and lies that change all their lives forever.
Guy Bass has created the most wonderful book in SCRAP with strong characters, an emotional storyline, fast-paced action and a fantastic concept. Readers of all ages will get lost in the pages of Scrap. The promise of a sequel is much welcomed as once opened, readers will definitely want more. Illustrations by Alessia Trunfio help bring each character to life too. A must read!
Curriculum links to: difference, independence, teamwork, friendship, love, loyalty, family, friendship, greed, determination, hope and acceptance.
320 pages / Reviewed by Donna Burkert, teacher
Suggested Reading Age 7+
Other titles