Sea (The Huntress Trilogy)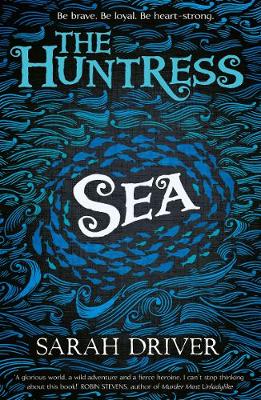 By Author / Illustrator
Sarah Driver
Genre
Adventure
Age range(s)
9+
Publisher
Egmont UK Ltd
ISBN
9781405284677
Format
Paperback / softback
Published
06-04-2017
Synopsis
The first book in a stunning new fantasy adventure trilogy, perfect for readers aged 9+ and fans of Philip Pullman, Piers Torday, Abi Elphinstone, Katherine Rundell and Frances Hardinge.
In the sky, the fire spirits dance and ripple. Grandma says they showed our Tribe that I'd be a captain, before I was even born.
Ever since Ma died, Mouse has looked after her little brother, Sparrow, dreaming of her destiny as captain of the Huntress. But now Da's missing, Sparrow is in danger, and a deathly cold is creeping across Trianukka ...
Sea-churning, beast-chattering, dream-dancing, whale-riding, terrodyl-flying, world-saving adventure.
'Moonsprites. Terrodyls. Beastchatter. The Huntress: Sea is a heart-thumpingly brilliant adventure. Paver meets Pullman. A real gem' - Abi Elphinstone, author of The Dreamsnatcher and The Shadow Keeper
'A glorious world, a wild adventure and a fierce heroine. I can't stop thinking about this book!' - Robin Stevens, author of Murder Most Unladylike
If you like Northern Lights, The Lie Tree, The Last Wild and Rooftoppers, you'll love Sea.
Don't miss the second book in The Huntress Trilogy, Sky.
Sarah Driver is a graduate of the Bath Spa MA in Writing for Young People, during which she won the United Agents Most Promising Writer prize in 2014. She is also a qualified nurse and midwife. Sarah started writing stories as a small child and lists her influences as Spellhorn by Berlie Doherty, A Necklace Of Raindrops by Joan Aiken and the Carbonel books by Barbara Sleigh - those gorgeous, magical stories that create and nurture readers.
When she's not writing, she can be found walking by the sea, visiting exhibitions, reading or travelling, often in the name of research. She has seen humpback whales from an oak boat in the northern seas of Iceland, eaten cubes of six-month fermented Greenland shark, and journeyed by train beyond the arctic circle to the far north of Swedish Lapland, where she rode a slightly obstinate horse through a forest, under the northern lights, in temperatures of -32 degrees. She has learned that even horrifying bouts of sea-sickness make excellent research material.
Sea is Sarah's debut novel, the first in The Huntress trilogy. Sarah lives in Sussex, close to the sea, with Lily, a street-wise ginger cat and an excitable mini-lop bunny named Peter.
Reviews
Sue
Mouse knows her destiny; 'the great green fire spirits dance and ripple' telling her Tribe the future and Mouse is destined to be a captain just as her brother, Sparrow, is a whale-singer. Since the death of their Ma, she and Sparrow have grown up aboard The Huntress, their grandmother's ship, as their father is a trader, spending much time away from the family. Then Da goes missing and Grandma brings a new navigator on board. Things rapidly change and Mouse embarks on a quest to save her family and her ship. From the first line, Sea is an amazing adventure story, set in a beautifully crafted world of fantastical creatures, people with magical talents and well drawn characters with their own customs and belief systems. Mouse is full-on and feisty, always in the thick of the action, ready to take on the world to protect her family and her home. Strong and capable, she can run roughshod over others, making her not entirely likeable initially, although she develops over the course of the story. Her bother, Sparrow, is her opposite - 'little too-soon' is vulnerable, prone to shaking-fits, yet he sings with power and beauty, his high voice rising 'like a bell, to chime along with the whales'. Written in beautiful, lyrical prose, the speech of the characters clashes against this like waves against the side of the ship. The use of kennings as part of this adds to the mix, creating a 'heart-bright', 'sizzle-bolt' of a story. Can't wait for the next part! 336 pages / Ages 12+ / Reviewed by Sue Wilsher, teacher.
Suggested Reading Age 11+
Other titles