Shoestring, the Boy Who Walks on Air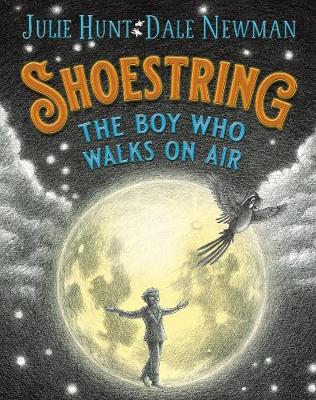 By Author / Illustrator
Julie Hunt, Dale Newman
Genre
Adventure
Age range(s)
9+
Publisher
Murdoch Books
ISBN
9781911631842
Format
Hardback
Published
03-09-2020
Synopsis
'Shoestring loved the sudden intake of breath when he stepped onto the rope. The upturned faces of the audience made him think of coins scattered at his feet, more coins than he had ever taken when he was a pickpocket.'
Twelve-year-old Shoestring is leaving behind his life of crime and starting a new career with the Troupe of Marvels. Their lead performer, he has an invisible tightrope and an act to die for. But trouble is brewing - the magical gloves that caused so much turmoil for KidGlovz are back.
When he's wearing the gloves, the world is at Shoestring's fingertips. It's so easy to help himself to whatever he likes - even other people's hopes and dreams. But when he steals his best friend's mind, he's at risk of losing all he values most.
A thrilling, heart-in-the-mouth adventure of ambition, friendship and the threads that bind from the award-winning creators of KidGlovz.
Reviews
Jacqueline
Shoestring, the Boy Who Walks on Air is the follow up novel to the graphic novel Kidglovz. It tells the story of what happens next to the characters from the graphic novel and even includes the book of Kidglovz as part of the story.

Shoestring, previously a thief, is now a tightrope walker and he joins the Troupe of Marvels, which includes his friend Kidglovz. His act is marvellous but when the magic gloves from the previous story turn up, it spells disaster, both for Shoestring and the rest of the troupe. The gloves are not a benign influence and wearing them leads Shoestring into terrible danger.

Once again there are echoes of other stories - the gloves reminded me of Lord of the Rings and the desire to possess the ring. This time the story is told both in the third person and in the first person by an unlikely narrator, a talking macaw called Metropolis. This allows the text to be broken up into sections and heightens the tension - it is an unusual way of storytelling that works well.

The same things that are particularly striking about Kidglovz are the highlights here. The names are wonderful, you could do a whole piece of work just looking at the names. Lobe (amazing hearing); Mr Illuminati, an encyclopaedia salesman; Braid, a weaver, and Twine Valley - where the weavers live. There is a sort of map, but I would have liked a map of the whole country because the names are so good.

The other highlight is the illustrations, which are amazing and completely capture the atmosphere. The villain, Mistress Admantine, is drawn to look a bit like a devil, and when the troupe is happy the pencil lines are sharp and seem to reflect the mood.

The Australian author was apparently influenced by Romanian legends for this story and the creepiness and sinister tones do seem to reflect that influence. In places, this story is quite terrifying and there were a few points when I wondered if they would all be ok in the end. The eeriness does, however, linger in the mind after reading it. There are going to be children who will absolutely love that!

368 pages / Reviewed by Jacqueline Harris, teacher
Suggested Reading Age 9+
Other titles