Sing Along With Me! Baa Baa Black Sheep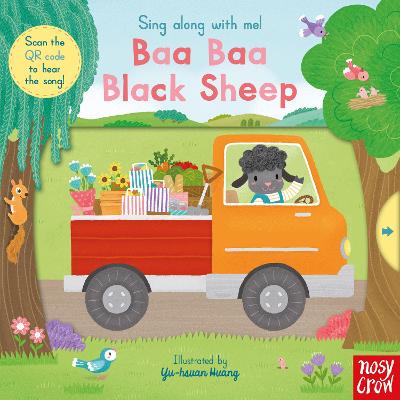 By Author / Illustrator
Yu-hsuan Huang
Genre
Baby & Toddler Books
Publisher
Nosy Crow Ltd
ISBN
9781839942693
Format
Board book
Published
17-02-2022
Synopsis
An adorable Sing-Along board book story, with five robust board sliders - easy for little hands to use! Each board book comes with a free instrumental and vocal version of the nursery rhyme - simply scan the QR code for little ones to listen and sing along!With bright illustrations this series make the perfect gift for a baby or toddler!
There are loads of titles to collect... Sing Along with Me! The Wheels on the Bus / Sing Along with Me! If You're Happy and You Know it / Sing Along with Me! Old Macdonald Had a Farm / Sing Along with Me! Row, Row, Row Your Boat...and many more!
Reviews
Joanna
A lovely board book for babies and toddlers to delight in. Sing Along With Me! Baa Baa Black Sheep is a perfect board book for babies to begin their reading journey. This delightful board book is bright, colourful and has a slider or moving part on every page to further interest your child. Nosy Crow have included a QR code on the back of the book, which you simply hold your camera open over the QR code and it will load the song - Baa Baa Black sheep -to sing along whilst you study the pages.
The illustrations are fabulous. A dog is visiting a shop - only revealed by moving the slider - and is asking if it sells any wool. On the next page, the shopkeeper pops up when moving the slider upwards, holding the 'three bags full'.  Next a circular slider reveals all the action on the farm - tractors, before ending on the final page with a slider of a little dog knitting, where the wool is delivered. All the animals have happy, inviting faces and combined with the colourful pallet of the book, this makes a very enjoyable book for babies and toddlers to enjoy.
This book brings to life a popular nursery rhyme and gives a visual storyline to the song. I feel it really helps make sense of the nursery rhyme for small children. I adore all the detail on every page. For older toddlers, you could ask questions such as - how many tractors can you spot? Or, what type of items is the shopkeeper selling? For smaller babies, they will simply delight in the sliders and pop ups.
Each page being thick, it is a great way for babies and toddlers to learn to turn pages in a book and begin their love of picture books. A lovely bright addition to the bookshelf.
Board book / Reviewed by Joanna Hewish
Suggested Reading Age 0+
Other titles