Sisters of Sword and Shadow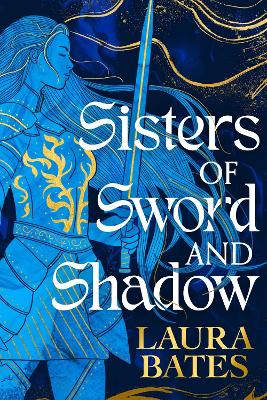 By Author / Illustrator
Laura Bates
Genre
Fantasy
Age range(s)
14+
Publisher
Simon & Schuster Ltd
ISBN
9781398520042
Format
Hardback
Published
09-11-2023
Synopsis
What if the Knights of the Round Table had a female counterpart? An epic Arthurian fantasy reimagining from the UK's leading and bestselling feminist writer, Laura Bates, for fans of Leigh Bardugo and Sarah J. Maas.

Destined for an arranged marriage, Cass dreams of freedom. So when a fierce and beautiful leather-clad woman rides up and offers to take her away, Cass doesn't hesitate to join her. She is introduced to the Sisters of Sword and Shadow - a group of female knights training to fight, protect their community and right the wrongs of men. Drawn into a world of ancient feuds, glorious battles, and deadly intrigue, Cass soon discovers she holds a power that could change not only her own fate but that of her entire sisterhood.

Introducing Laura Bates' fantasy debut, the first in a breathtaking and sweeping duology, exploring questions about power, courage and the stories we tell about the past.

Praise for Sisters of Sword and Shadow:  'Sisters of Sword and Shadow is absolutely brilliant. Beautiful, fierce, and furious - full of the power and magic of sisterhood in every sense. I loved it.' Katherine Webber, bestselling author of Twin Crowns.  'An empowering and courageous tale of a daring sisterhood in which true chivalry means fighting for what you believe in.' Bea Fitzgerald, bestselling author of Girl, Goddess, Queen.  'A dazzling tale of courage, power and sisterhood, with a heroine to truly root for. I loved every breathtaking minute of this fierce, feminist epic fantasy.' Catherine Doyle, bestselling author of Twin Crowns
Reviews
L Mayhew
Laura Bates has taken our Reading Ambassadors on a captivating journey through a world of courage, strength, and the enduring bonds of sisterhood in her latest novel, Sisters of Sword and Shadow. This feminist fantasy novel seamlessly blends action, adventure, and themes of empowerment, making it a must-read for our young adults.
The narrative is set in a richly-imagined medieval world. The story follows the lives of two sisters, determined to challenge societal norms and reclaim their destinies. Bates masterfully weaves together the characters who are compelling and well-developed, with each sister possessing a unique voice and personality. The protagonists' journeys are not only about physical strength but also of self-discovery and resilience.
The novel challenges traditional gender roles, presenting strong, complex female characters who defy expectations and forge their own paths. We have found that Bates's writing style is both evocative and accessible, making the book an engaging read for our students. The world-building is immersive, transporting readers to a realm filled with magic, intrigue, and the complexities of sisterhood.
The author skillfully addresses relevant social issues, prompting readers to reflect on the constraints imposed by society and the importance of breaking free from those constraints. One of the novel's strengths lies in its ability to balance action-packed scenes with moments of introspection and character development. The pacing is well-managed, ensuring that readers remain hooked from the first page to the last. The plot twists and turns, keeping the audience guessing and adding an extra layer of excitement to the narrative.
Sisters of Sword and Shadow has not only entertained us but also served as an empowering tale for our readers. It has encouraged us to question societal expectations, embrace their strengths, and celebrate the bonds of sisterhood. Through the fantastical lens of this novel, Bates delivers a powerful message about the importance of resilience, self-discovery, and the pursuit of one's dreams.
Laura Bates's Sisters of Sword and Shadow is a compelling and empowering read that seamlessly blends fantasy and feminism. With its well-developed characters, engaging plot, and thought-provoking themes, this novel is a must-read for students seeking a captivating story that challenges societal norms and celebrates the strength of women.
400 pages / Reviewed by L Mayhew, teacher
Suggested Reading Age 14+
Lorraine
Cass leads a sheltered life living on her family farm, working hard with her older sister Mary but also able to roam free and enjoy the countryside. Soon it is time for her sister to be married to a man chosen by their father, something Cass fears for herself, and on the morning of the wedding events change the course of Cass's life. Suspecting she is different from a young age and feeling that life as a wife may not be for her, Cass decides to join the Knights of the Sisters of Sword and Shadow. Thrust into a life of training and fighting for survival and justice, Cass battles with her conscience as she discovers more about the band of women she has joined, and the choices they make.
Sisters of Sword and Shadow is a thrilling tale, full of action, emotion, twists, and surprises. The reader is immersed in medieval life due to the author's skill in descriptive narrative, which, although full of detail, never becomes overbearing or dull. Once could assume that the book might be didactic in its message of feminism, centring on a band of women in the Middle Ages, but I found it questioning and thoughtful.
Several plots intertwine and secrets are revealed which slowly illuminate the precarious nature of the women's stronghold. As the book progresses, women's vulnerability in society and ingrained patriarchal tendencies are revealed to shocking effect and would make great discussion points for all genders. The book as a whole poses many questions about conscience, duty, patriarchal rule, women as subservient objects and the balance of power, to name a few, but the list goes on with grief, historical connections and a little bit of folklore all entangled. The result is a daring, exciting narrative interspersed with raw emotion and survival.
Clearly written as a series, a hint of love and attraction has been added, something that will appeal to teens but that I almost found disappointing. For after all, does a tale of women's awakening, strength and success in the face of adversity have to include a love interest? Are we not enough??! That said, I would highly recommend this book for all genders as due to the fight scenes and descriptions of jousting and swordplay I feel it will appeal to many. It may also be extremely enlightening for male students as we have to question how much has changed in society.
A book for discussion certainly, but also one that will have readers baying for the next installment!
400 pages / Reviewed by Lorraine, school librarian
Suggested Reading Age 14+
Other titles