Skeleton Keys: The Unimaginary Friend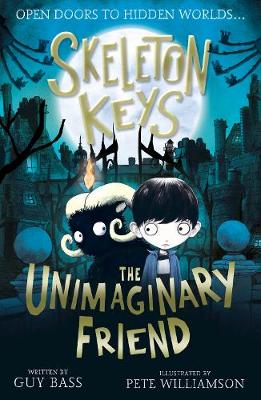 By Author / Illustrator
Guy Bass, Pete Williamson
Genre
Adventure
Age range(s)
7+
Publisher
Little Tiger Press Group
ISBN
9781788950305
Format
Paperback / softback
Published
05-09-2019
Synopsis
Greetings! My name is Skeleton Keys and these fantabulant fingers of mine can open doors to hidden worlds... Join me for the curious tale of Ben Bunsen, whose only friend is a figment of his imagination ... until now.
Ben can't believe it when his imaginary friend the Gorblimey becomes unimaginary. The Gorblimey is loyal and kind ... and real! But Skeleton Keys is far from convinced by the Gorblimey's friendly ways. He's got the twitch, which is (almost) never wrong, and it's telling him the Gorblimey is dangerous and needs banishing to the endless void of Oblivion.
As Ben battles to save his new friend, the Gorblimey is soon the least of Skeleton Keys' worries. It seems that there's more than one unimaginary in town. And this one is out for revenge...
The first book in the darkly comic new SKELETON KEYS series from the award-winning duo behind STITCH HEAD. Perfect for fans of David Walliams, AMELIA FANG and THE NOTHING TO SEE HERE HOTEL.
Praise for THE UNIMAGINARY FRIEND: \"Guy has mixed cleverly-created characters with his trademark humour and wit to give us his best book yet. This is one spooky series I'm going to devour!\" - Authorfy
Follow Skeleton Keys on his next adventure in THE HAUNTING OF LUNA MOON, out now!
Reviews
Carol
From the very first page, where we see a pair of skeletal hands with keys for fingers, each with its own label (the Key to Second Sight, The Key to the Kingdom, The Key to Oblivion) Skeleton Keys: The Unimaginary Friend seizes hold of your imagination and doesn't let go. The book begins with Mr Skeleton Keys, a wickedly funny narrator (think Skulduggery Pleasant meets Funny Bones) introducing (and interrupt at key cliff-hanging moments) the story of Ben Bunsen and his imaginary friend, the Gorblimey. The Gorblimey may look strange - he's 'hairy, round and as black as an eclipse, with kind, bright eyes, curved horns and a yellow-orange candle flame forever flickering in the air just above his head', but he's also loyal, kind and always there when Ben needs him. Unfortunately, not all imaginary friends are quite so, shall we say, accommodating... With fantastic turns of phrase throughout from the wonderful Guy Bass, and with Pete Williamson's atmospheric illustrations breaking up the text, Skeleton Keys rattles along like a run-away train full of cackling crows. Mr Key's pages are all white-on-black, a vivid way to break up the text and relieve the tension, before we're slammed straight back into Ben and Gormblimey's adventure. Skeleton Keys: The Unimaginary Friend is brilliantly balanced for 7+ readers who are ready for a chilling thrill but not quite ready for out-right scary yet. As Mr Keys himself says, he's a 'dashing, key-fingered skeleton, with a thousand adventures under his belt and a thousand more to come!' On the evidence of this first book in the series, I say bring it on, 'm ready for them all! 256 pages / Ages 7+ / Reveiwed by Carol Carter, school librarian
Suggested Reading Age 7+
Other titles