Sky Pirates: The Dragon's Gold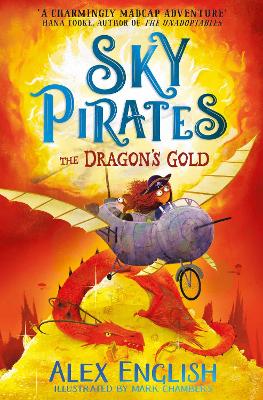 By Author / Illustrator
Alex English, Mark Chambers
Genre
Adventure
Age range(s)
7+
Publisher
Simon & Schuster Ltd
ISBN
9781471190896
Format
Paperback / softback
Published
05-08-2021
Synopsis
Embark on another swashbuckling SKY PIRATES adventure in The Dragon's Gold, perfect for 8+ explorers and fans of Abi Elphinstone, Peter Bunzl and Vashti Hardy.

Echo Quickthorn has been reunited with her sky-pirate mother, Indigo Lil, and is now a fully-fledged member of the Black Sky Wolves. So when Lil is summoned to the Alliance of the Seven Skies, Echo decides to sneak along with her friend Horace. There, Horace is captured by the dastardly Thunder Sharks, a rival pirate clan, who present Echo with an ultimatum: they'll release her friend in exchange for the legendary dragon's gold ...  Echo must journey - through underwater libraries and active volcanoes - to the inhospitable Dragonlands, in order to find the dragon's lair. But can she find the treasure and prove herself to be a true-sky pirate?

"Fizzes with magic and wonder" - Abi Elphinstone, author of Sky Song; "An incredible adventure, brimming with friendship and danger" - The Bookseller
Reviews
Sue
Having joined the Black Sky Wolves, Echo is determined to prove herself as a Sky Pirate. She loves her new life aboard the Scarlet Margaret, digging for treasure, wearing breeches and being part of the crew. However, when her mother, Captain Indigo Lil, is summoned to a meeting of the Seven Skies Alliance, Echo's curiosity gets the better of her and, accompanied by an unwilling Horace, she sets off on an adventure of her own which results in their kidnap. As the seven sky-pirate clans race to locate the legendary Cutlass of Calinthe, Echo has to help her rivals in exchange for their freedom, leading them to the dragon's lair and proving herself a true Sky Pirate.
Sky Pirates: The Dragon's Gold is the second adventure for Echo Quickthorn (see Sky Pirates: Echo Quickthorn and the Great Beyond) and is every bit as enjoyable as the first. Although this adventure seamlessly follows and builds on the first, it would be possible to read it as a stand-alone story - but why deny yourself the pleasure of starting at the beginning?!
Worried that her mother doesn't think she is capable, Echo is determined to prove herself a true Sky Pirate and show her worth as a member of the Scarlet Margaret crew. Spirited and reckless as ever, she doesn't always think things through and her impulsive decisions lead her, Gilbert (her lizard) and Horace into danger. But her loyalty and courage are never in question and the ending is a testament to her good nature and ability to do the right thing, showing her to be a true Sky Pirate through and through.
Mark Chamber's illustrations are a wonderful addition to the story. Rich in detail, they are both atmospheric and engaging. Alex English's writing is wonderfully descriptive and the illustrations capture scenes and characters perfectly. I particularly love the drawing of Gerund Rooksbill (what a perfect name)- chief librarian of the Aqualiber Vaults, a place I would dearly love to visit! Thoroughly enjoyable, Sky Pirates: The Dragon's Gold is perfect for guided reading or enjoying as a class story as well as being a must have for class and library shelves. Hopefully, there are many more adventures for Echo and her friends to come.
288 pages / Reviewed by Sue Wilsher, teacher
Suggested Reading Age 9+
Other titles