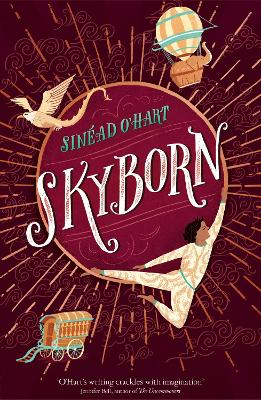 By Author / Illustrator
Sinead O'Hart
Genre
Magical Realism
Age range(s)
9+
Publisher
Little Tiger Press Group
ISBN
9781788953054
Format
Paperback / softback
Published
10-06-2021
Synopsis
The circus has seen better days, but for Bastjan it's home. He will do anything he can to save it, even if it means participating in a death-defying new act. But when that fails to draw in the crowds, the ringmaster makes a deal with a mysterious man by the name of Dr Bauer.  In exchange for his help, Bauer wants a box that belonged to Bastjan's mother and came from her birthplace - the faraway island of Melita. Bastjan is desperate to keep his only memento of his mother out of Bauer's hands. And as he uncovers more about the strange objects contained within, he realizes it's not only the circus that's in terrible danger...
A fast-paced and atmospheric fantasy adventure for fans of NEVERMOOR, THE UNCOMMONERS and SKYSONG.
Reviews
Kelly
Skyborn is a tumbling, twisting and turbulent adventure akin to that of Peter Bunzl's Cogheart series. Alice, who has a 'firemark' on her cheek, has turned her back on her privileged life. She is on the run from her grandfather, Lord Pattern, longing for a life of acceptance for who she is. Where better to blend in than the circus that has just rolled into town?
Bastjan has only known the circus, they are his family. His nomadic lifestyle of misfits is the only existence he feels comfortable in. But he has a mystery to solve: his mother suffered a perilous fate at the hands of the ringmaster's demands and Bastjan has been plagued with nightmares of spiralling freefalls ever since.
The circus is failing and the ringmaster needs a new death-defying act and will go to any length to achieve it. In desperation, he strikes a deal with a mysterious backer, Dr Bauer. In exchange for his help, Bauer wants a box that belonged to Bastjan's mother, derived from her birthplace - Melita. Unwilling to relinquish his only link to his mother's memory, Batjan refuses to part with his only keepsake of her. As he discovers more about the box and what it entails, he realises there is more at stake than just the circus.
Join Batsjan and his newfound friend, Alice, as they venture to unknown depths, tumbling into legends to uncover truths and save the world from peril. Sinead O'Hart writes with a vivid imagination, her descriptions are immersive and the story lifts off the pages, unfolding before your eyes. Skyborn, the prequel to Eye of the North, will enrapt the reader from beginning to end. It is filled with twists and turns to keep the reader wanting more.
384 pages / Reviewed by Kelly Buxton, teacher
Suggested Reading Age 9+
Jennifer
Young Bastjan is following in his late mother's footsteps, working in a circus troupe, under the instruction of his unpleasant, cruel stepfather and ringmaster, Cyrus Quinn. Forced to face his biggest fears to become a death defying aerialist as his mother was, Bastjan is desperate to gain access to her most precious possessions and a mysterious wooden box she left and must agree to all of Quinn's calculating and heartless demands.
However, a mysterious stranger, Dr Bauer, also desires the unusual box and is willing to go to extreme measures to get it; tempting Quinn with a hefty high price for it but awakening Quinn's own ideas to see what curious secrets the box holds. Bastjan seems to have enemies and danger surrounding him. Now, more than ever, the motherless boy needs the friendship of his fellow circus performers like father figure Crake, the strongman, and also the fierce loyalty of new friend, runaway Alice (who joins the story with her own secrets and sad background).  Opening the intriguing old box unleashes a world of the unknown. Bastjan's mother has drawn and written of the, almost unbelievable, creature of her childhood ; a fantastical shape-shifting being living in a hidden city. A creature that a Doctor of science or a circus owner looking for rarities would find invaluable to own …
Skyborn is a race against time, thrilling and astonishing adventure across land and sea as Bastjan seeks to find the Slipskin creature and return to it a powerful bracelet his mother has always regretted taking from it. The story is fast paced, full of danger, drama, dark and death defying moments. From the sweat, greasepaint and hardship of a struggling, out of fashion circus to the technology and wonder of newly invented steampunk airships and machines, the reader is flung headlong into a richly detailed world.
Skyborn is fantastical and magical but also gritty and full of a huge range of raw emotions. We see pure loyalty and devotion (as Basjtan and Alice repeatedly give up their own freedoms to save each other) and pure greed and narcissism as Bauer and Quinn are prepared to sacrifice anyone for glory and power. Those who have read The Eye of the North will begin to realize Bauer is a familiar, malevolent figure and that under-confident, bullied but defiant and smart Bastjan is also a boy we have met before .
Skyborn is cleverly written to be as intriguing and enthralling as a stand alone book as it is as a story that connects us again with these familiar faces and weaves itself around some of those characters' pasts, presents and futures . A sweeping, exciting and brilliant quest.
384 pages / Reviewed by Jennifer Caddick, teacher
Suggested Reading Age 9+
Other titles