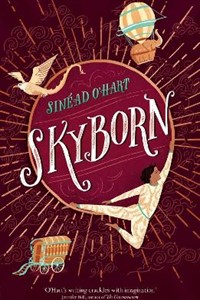 About Author
Sinéad O'Hart's latest book Skyborn is the prequel to her earlier title, The Eye of the North, a dramatic adventure with dangerous villains and mythical creatures.  Sinéad was raised in a small house full of books in the south-east of Ireland. She has a degree in Medieval English and has had many careers (including butcher, bookseller and university lecturer). She now lives in County Meath, near Dublin, with her husband, their daughter and an ever-expanding book collection. Visit sjohart.wordpress.com / @SJOHar
Author link
Interview
Skyborn (Stripes Publishing)
June 2021
A Victorian circus, an incredible airship, a secret city and a woman who can fly....all the ingredients you need for a great adventure in Skyborn, the prequel to Sinéad O'Hart's earlier adventure, The Eye of the North. Author Sinéad O'Hart tells us more!
1. Can you tell us, briefly, what Skyborn is about, and how it fits with your earlier book, The Eye of the North?
Skyborn is a prequel to The Eye of the North, so it's the story of Thing, one of the characters from The Eye of the North, before his adventures in the frozen Arctic with Emmeline. Skyborn opens with a mysterious story that happened 20 years before, and then we switch to the perspective of a young boy living and working in a circus. Gradually, the link between the earlier events and the boy's life becomes clear, and we go on an adventure with him as he tries to work out the secrets of his own past and how they may have frightening consequences not only for him, but for some of the people around him, too. The story takes us from the circus to a daring rescue from a farmyard to a marvellous airship, and all the way to a secret city behind a huge wall, where some long-ago wrongs need to be set right - before it's too late…
2. What drew you back to this adventure to write more about the character, Thing? Why did you want to explore his back story?
I always wanted to revisit the world I'd created in The Eye of the North and I'd thought about writing a prequel about Emmeline's parents, Eloise and Martin Widget, who are members of the Order of the White Flower (an organisation tasked with stopping the destructive Dr Siegfried Bauer) and who work for an organisation called OSCAR - the Office for the Sighting and Cataloguing of the Anomalous and Rare, which protects all the unique creatures of the world, ones which some people think are merely mythical.
I think a story about their younger exploits would be great - and I still do! But when it came to discussing a prequel with my editor at the time, we realised that many readers loved the character of Thing, and wanted to know more about him, so I decided to tell his brilliant back-story instead. It was huge fun to explore and write his tale. (Though I might yet go back and write about the Widgets!)
3. Thing - or Bastjan - grows up in a circus. Have circuses always intrigued you, do you remember visiting a circus as a child?
Yes, I've always loved the circus. When I was a child, my parents would bring my brother and me to the circus every year, when it visited our town. We looked forward to it all year long. One of my childhood heroes was a woman named Marion Fossett, who was (and still is, as far as I know) the ringmaster of Fossett's Circus. I remember her as a magnificent character in the ring, with long dark hair and such confidence in her bright red jacket and shining top hat. I wanted to be just like her!
My descriptions of the circus in Skyborn are largely taken from my memories of these childhood experiences, and I really enjoyed writing about the circus setting. Of course, it's no surprise that one of the themes of the book is captivity, and how wrong it is to keep creatures in captivity to perform in a circus ring - I'm really glad that circuses nowadays don't use wild animals in performances any more, for the most part. I love circuses, but I don't like that aspect of their history.
4. If you were part of a circus, which job would you have had?
I have absolutely no acrobatic ability or head for heights, nor any great affinity with animals, so I'd probably be entirely useless as part of a circus troupe. I might make a useful clown, or perhaps a bearded lady!
I love the character of Crake from Skyborn - the circus strongman who is like a father to Bastjan - so perhaps that's what I'd do. I'm not sure I'm as mighty as Crake, but I could give lifting anvils a go. If I could do anything in a circus, I'd love to be an aerialist, like Bastjan and his mother.
5. One of your characters in this story can 'shapeshift' - if you could, which shape would you want to be able to shapeshift into?
I love birds, so I'm going to say something like a raptor or an eagle, a powerful and majestic bird who would answer to nobody and who had the freedom of the skies. I think that would be amazing.
6. How do your settings develop? Do you create worlds that you'd like to be able to visit?
Many people have described my books' settings as 'Dickensian', and it always makes me smile. I have no particular affinity with, or affection for, Dickens or his novels, and I've not read very many, so it's interesting that the threads of his work seem to be woven into mine. It shows how much of an influence Dickens has clearly been on our reading and writing culture.
I do love the world of these stories, and I basically see it as an alternate late 19th century/early 20th century in a world which faces some of the problems we are facing today - namely, the spectre of climate change and rising sea levels, albeit for a different reason - and how people might deal with problems such as these at that time, using different technology from us.
My very first introduction to this world was dreaming up the idea of OSCAR, the organisation that protects endangered 'mythical' animals, and the rest of the world and the characters came from that. I would love to visit the fictional world I've created, mostly to have a go at flying an airship. I love the ones in my stories so far!


7. What is your favourite part of writing a book?
I like all the stages, for different reasons. I enjoy the planning stage because it's like putting together a puzzle without really knowing what the final picture is supposed to look like, and I love trying to find unusual or creative ways to get the pieces to fit together. I love the writing, of course, though I find first drafts are easier than subsequent ones - in first drafts, you're basically just telling yourself the story and it's all quite fun, and in second or third or tenth drafts you're often desperately trying to get the book to work, so it can be frustrating! The editorial stage is the hardest for me, but I really appreciate the work of a good, astute editor who asks you the hard questions and helps you to make your writing as close to perfect as you can get. Writing a book is extremely hard work, but it's such a privilege to create something that will bloom in the mind of your reader. It's something I still pinch myself about.
8. Will we see more of the characters from Skyborn and The Eye of the North - are you writing more about them?
I have a third book in this story world all ready to go - planned out, and thoroughly sketched inside my head. It would reintroduce some characters we've met in The Eye of the North and bring both Emmeline and Thing's story to a whizz-banging conclusion... but I don't have a deal to write it, at the moment. So, that's sad. But perhaps the powers that be in publishing might have a change of heart and take pity on me!
9. Where and when do you do your best writing? What are you writing now?
I write at my kitchen table, on my battered old laptop that's missing its 'x' key, covered in dust and post-it notes, and held together with string (the laptop, not me, though sometimes I wonder!) As to when I do my best writing? Whenever I get any time to myself! I'm a parent to a young daughter, so having her back at school is a blessing for my writing. Whenever she's home, I'm on 'mammy' duty, and any time I get when my little girl is otherwise occupied is writing time. I also spend a lot of my downtime thinking, daydreaming, and planning - all vital aspects of a writer's craft.
Right now I'm writing a fourth book for my publisher, Little Tiger Press, which I probably can't say much about. It's very different from any book I've done before; it has a contemporary setting, and it's a fast-paced, high-concept science fiction story, one which has been in my head for 20 years. It's been huge fun to write so far (I'm almost finished my first draft), and it should be published in 2023.
10. What would your dream writer's shed look like? Favourite writer's snack?
My dream writer's shed would have a comfortable chair to sit in at a desk with loads of drawers and storage, and a comfy chair in the corner for reading. It would have at least three stuffed bookshelves, and a skylight for dreaming through. It would have flowers growing round the door, and perhaps a tree hugging its roof, and most importantly of all: it would be quiet.
My favourite writer's snack is something like a handful of mixed nuts, perhaps with some raisins thrown in. Yum!
11. Are there other contemporary children's books you can recommend to our readers?
I can recommend books for days! Books I've read and loved over the past few years include *deep breath*: Orphans of the Tide and its sequel Shipwreck Island (my current read) by Struan Murray; Brightstorm and Wildspark and Darkwhispers and basically anything from Vashti Hardy; Twister and The True Colours of Coral Glen by Juliette Forrest; the Uncommoners series and Wonderscape by Jennifer Bell; The Infinite and The Time Thief by Patience Agbabi, Morgana Mage in the Robotic Age by Amy Bond, The Hungry Ghost and The Missing Barbegazi by H.S. Norup; Otherland by Louie Stowell; A Pinch of Magic and its sequels by Michelle Harrison; The Girl and the Ghost by Hanna Alkaf… and there are literally 50 squillion more. I wish I had space and time to list them all!
12. A lot of your adventures involve children travelling to distant places - do you travel a lot yourself, and what are your favourite destinations?
I love writing about travel, possibly because I haven't been to very many places myself! I've been to Paris a couple of times (it's my favourite city on Earth), and I've visited Portugal, Belgium, and Malta, as well as several places in the United Kingdom (which is 'distant' to me, as I'm from Ireland).
Skyborn is partly set on a fictionalised version of Malta - I've called the island 'Melita' instead - and part of the description of the Silent City on the island of Melita in Skyborn is taken from my memories of the amazing megalithic temple of Hagar Qim in Malta. It's a place I recommend everyone visits at least once!
I've never been to Greenland, where my first book The Eye of the North was set, and that's top of my 'bucket list' of destinations, along with Iceland, which seems like the coolest place around - no pun intended. Another travelling dream I have is to go around Europe on the train network, so that's something my family and I are working towards doing in the future.
Author's Titles