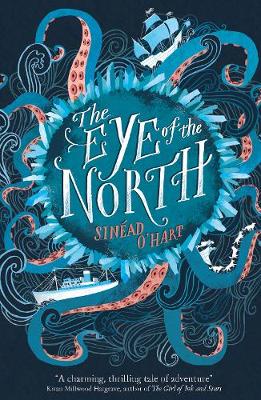 By Author / Illustrator
Sinead O'Hart
Genre
Adventure
Age range(s)
9+
Publisher
Little Tiger Press Group
ISBN
9781847159410
Format
Paperback / softback
Published
08-02-2018
Synopsis
Emmeline Widget has never left Widget Manor - and that's the way she likes it. But when her scientist parents mysteriously disappear, she finds herself being packed off on a ship to France, heading for a safe house in Paris. Onboard she is befriended by an urchin stowaway called Thing. But before she can reach her destination she is kidnapped by the sinister Dr Siegfried Bauer.
Dr Bauer is bound for the ice fields of Greenland to summon a legendary monster from the deep. And he isn't the only one determined to unleash the creature. The Northwitch has laid claim to the beast, too.
Can Emmeline and Thing stop their fiendish plans and save the world?
A dazzling fantasy adventure, perfect for fans of ROOFTOPPERS, THE UNCOMMONERS and A SERIES OF UNFORTUNATE EVENTS
Reviews
Matt
What an adventure! This book centres around Emmeline, whose parents mysteriously vanish. Before long, she is on a ship to France where she encounters her side-kick-to-be, Thing. Everything takes a turn for the worse when Emmeline is kidnapped and taken to the North. From here on in, we have scientists, secret societies, myths . . . the list goes on.

Firstly, let me talk about the characters. Anyone who has read some of my previous reviews will know that I love a good character. There has to be something about them to grab my attention, then they have to develop as the story progresses. I can safely say that both Emmaline and Thing did this in abundance. Emmaline is a true heroine. She's bold, brash and not perfect by any stretch of the imagination. As for thing, he certainly is a unique character. I was intrigued by him throughout and was glad as we saw more of his perspective as the novel progressed.

From very early on, there is an air of mystery. As a reader, there was just enough to hook me without giving too much away. It wasn't until quite late on that everything became clear, despite all my guessing and second-guessing. It's one of those books where there are twists and turns around every corner. Once one pitfall has been overcome, there is no let up.

For some, this book will be a demanding read. There is a lot going on and it is quite long for a middle-grade read. This makes it a perfect step before moving onto Phillip Pullman's Northern Lights trilogy or as a class read for a Year 6 class.

384 pages / Ages 9+ / Reviewed by Matt Davies, teacher.
Suggested Reading Age 9+
Sam
Emmeline is trying to find her parents and is desperate to know why they can't be contacted. She receives a ship ticket and instructions to meet her new guardian in Paris. However, things don't go to plan and, despite befriending a stowaway named 'Thing', Emmeline is kidnapped by the evil Dr. Bauer. He is plotting to find mythical creatures in the north to be able to give him immortality; creatures such as The Kraken. Will he succeed or will Emmeline be able to stop his dastardly plans?

The book is generally well written, although I didn't love it. It gripped me towards to start but became a little slow in the middle when the book split perspectives - one chapter as Thing then one as Emmeline. The description of characters is particularly good, especially Northwitch, and I do think that, as the author's first book, it is a commendable effort.

I would recommend it to lovers of fantasy and it did have shades of Pullman's Northern Lights, albeit a little easier to read. A fantasy adventure in frozen lands. I will be interested in reading a sequel to see where the characters go, especially Thing, who is the most likeable character of the lot.

384 pages / Reviewed by Sam Holmes, teacher.
Suggested Reading Age 9+
Other titles