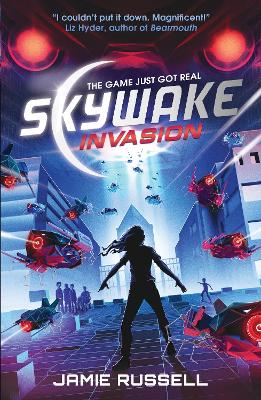 By Author / Illustrator
Jamie Russell
Genre
Adventure
Age range(s)
11+
Publisher
Walker Books Ltd
ISBN
9781406397512
Format
Paperback / softback
Published
01-07-2021
Synopsis
15-year-old girl gamer Casey Henderson is obsessed with smash-hit game SkyWake - and she's good at it, too. Little does she realize it's actually an alien training tool created by an evil extra-terrestrial race. When the aliens swoop down on a national gaming tournament, Casey and her teammates discover they're abducting the best gamers to fight in a distant alien war across the galaxy. And they've got her brother. Casey's gaming skills are her best hope of stopping the aliens - but first she and her online teammates must learn to work together in real life...
Reviews
Stephen
Ever wondered what it would be like to be inside your favourite computer game? In SkyWake Invasion - the new sci-fi adventure novel from Jamie Russell - the worlds of the gamer and game are about to become uncomfortably close!
It's just an ordinary day for teenage gamer Casey and her younger brother Pete, except that the SkyWake Computer Game national tournament is taking place at the local shopping centre, and Casey and her gaming team 'The Ghost Reapers' are determined to win - though Casey has never met them in the flesh. Uncertain what her team mates' reaction will be to finding out she is girl (they are all boys), her brother claims to be Casey when they all meet, a decision which will have far reaching consequences for the team and Casey - and not just losing the tournament. For everything is not quite what it seems. Pete goes missing, no one can leave or enter the shopping centre, and the Red Eyed alien cosplayers turn out to be anything but enthusiastic gamer fans. In fact, they are the real thing from the game and they seem intent on rounding up all the tournament gamers - but for what purpose and where are they being taken? Only Casey and her gang are left with the skills to try and stop the aliens and find her brother. Yet real life isn't a computer game and there is no reset button if things go wrong.
I found SkyWake to be an exciting adventure full of plot twists and turns. I enjoyed the way the story developed into two separate journeys following Casey and Pete, allowing me to see events happen from two separate views - just like a computer game. The focus on a female character in what is often thought of as a more male orientated gaming world was really interesting, especially the doubt that Casey had about whether the other guys in the team would accept her as they just assumed she was male when on the online gaming platform. Not being a gamer, I don't know much about the issues surrounding gender and gaming so this novel has given me an insight into this world, and as such could be used as a basis for class discussion around gaming. And while this novel will appeal to computer gamers, you don't have to have an interest in this to enjoy this novel as the story is strong and dynamic enough to pull you into the action and make you want to know what will happen next!
Issues around friendship, acceptance and bereavement also feature throughout the novel and the characters are all very different. Cheeze is probably my favourite character from the book - a wheelchair user who takes everything in his wheel spins, including the spider bots who still send a shiver down my spine at the thought of them! On occasion, aspects of the storyline did seem a little predictable to me, but I accept I'm not the target audience for this novel and this hasn't put me off wanting to read the other books in the trilogy.
Overall, this is a great, page-turning action adventure which engages and entertains, and has plenty to offer readers, both gamers and non-gamers alike. So put down that games console and jump into SkyWake!
304 pages / Ages 10+ / Reviewed by Stephen Leitch, school librarian
Suggested Reading Age 11+
Other titles