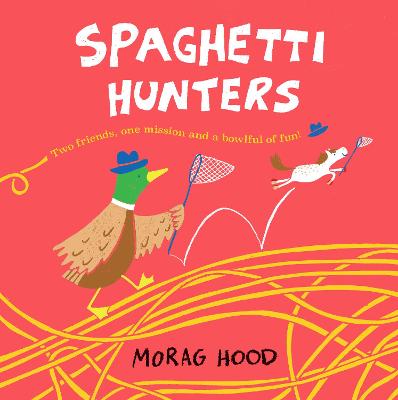 By Author / Illustrator
Morag Hood
Genre
Funny Stories
Age range(s)
3+
Publisher
Pan Macmillan
ISBN
9781509889853
Format
Paperback / softback
Published
04-02-2021
Synopsis
Spaghetti Hunters is a brilliantly funny and wonderfully silly picture book, featuring a duck, a tiny horse and quest for spaghetti, from the award-winning Morag Hood - creator of The Steves and I Am Bat.

Duck has lost his spaghetti, and Tiny Horse has a plan to save the day. But what exactly do you bring to a Spaghetti Hunt? A spade, a fishing rod, a jar of peanut butter, cutlery and some binoculars, obviously.  Searching far and wide, Tiny Horse catches worms, a ball of string, even a snake - but no spaghetti. Disaster! Until Duck consults a recipe book and armed with flour, eggs and a pasta maker, sets about making his own spaghetti. 

This infectiously comic story encourages reading and home-cooking, teaching children about where food really comes from.
Reviews
Maria
Duck has a problem.. The spaghetti is lost and isn't anywhere. Fortunately Tiny Horse, the greatest spaghetti hunter there ever was, offers to help. When the two are ready, the Great Spaghetti hunt begins. Although, it is not quite the hunt that Duck had in mind.
Together, they dig in the ground, look in the river and check the air but no spaghetti is found. Then, Tiny Horse triumphs and presents the missing spaghetti. But hang on.. Duck doesn't remember the spaghetti being green, stringy or hissing before. Oh no.. 'NONE OF THESE ARE SPAGHETTI!' Tiny Horse has found everything but spaghetti!
Unimpressed, Duck stomps back to the teapot to read a book. Tiny Horse follows, uninvited, and unimpressed that Duck has chosen a book over spaghetti hunting. Although this is no ordinary book, but a recipe book. Duck plans to make new spaghetti! As time passes and Little Horse watches the process of making the spaghetti, becoming even more unimpressed, Duck finally exclaims 'SPAGHETTI!' Tiny Horse, thinking it does look, taste and feel like spaghetti, suggests that it is a bit dry. But never fear! As Tiny Horse is prepared to hunt down the most fearsome of beasts… tomato sauce!
Most suitable for younger children in Early Years, Spaghetti Hunters could also be used in KS1. Children will love and be very engaged with Spaghetti Hunters as it is a fun, simple text with vibrant, supportive illustrations. Together they allow the book to be used for a range of abilities and purposes. There are plenty of opportunities for the reader to add detail to the events in the story and there is great potential to develop comprehension questions and discussions. Children will be very keen to create the sequel.. Tomato Sauce Hunters!
Picture book / Reviewed by Maria Faithorn, teacher
Suggested Reading Age 3+
Other titles