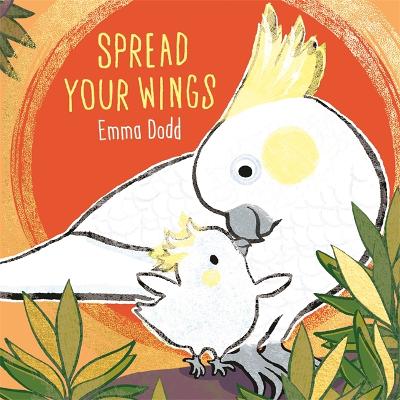 By Author / Illustrator
Emma Dodd
Genre
Personal Growth
Age range(s)
3+
Publisher
Templar Publishing
ISBN
9781800781764
Format
Hardback
Published
28-09-2023
Synopsis
A beautiful new book from international bestseller Emma Dodd, focusing on embracing new adventures.

As we snuggle here together,
gazing at the sky,
I know that soon the day will come
when you'll spread your wings and fly.

A baby cockatoo learns that there is a big wide world out there to explore.  The perfect gift for young and old, this uplifting and reassuring book with stunning art celebrates growing up and discovering new adventures.
Reviews
Maria
Spread Your Wings is a beautiful story about a cockatoo that provides a loving and stable home for its young bird. Through reassurance, hope and encouragement, the young cockatoo learns to fly high in the sky, 'swooping, diving, circling in the clear blue sky'. And even when times may seem more scary and uncertain, the reassurance, hope and encouragement remains as support from the heart.
Spread Your Wings is a lovely book to share with children for reassurance in becoming confident to try new things. With clear, bold illustrations, and the odd injection of shiny gold print, this warming story will be sure to support children in their growth.
24 pages / Reviewed by Maria Faithorn, teacher
Suggested Reading Age 3+
Other titles