Stand Up and Speak Out Against Racism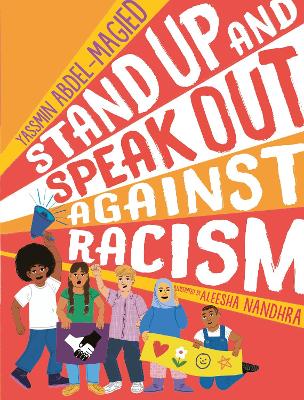 By Author / Illustrator
Yassmin Abdel-Magied, Aleesha Nandhra
Genre
Representation & Inclusion
Age range(s)
9+
Publisher
Walker Books Ltd
ISBN
9781406393712
Format
Paperback / softback
Published
03-08-2023
Synopsis
A vital and vibrant book answering real children's questions about racism, giving them the confidence and the tools to work towards a fairer society for all.
Using questions canvassed from children around the UK as her framework, writer, engineer and broadcaster, Yassmin Abdel-Magied gives clear context to the racism that persists today and shows how to recognize, resist and disrupt racist conversations and attitudes.

Yassmin creates a safe space for exploring an emotive and important topic. Her friendly, assured tone de-stigmatises any feelings young readers might have, while illustrations and infographics from Aleesha Nandhra provide a fresh way for readers to approach this complex issue.

Ideal as a way to open the conversation with readers aged nine and up, nurturing compassion, encouraging ways to create change and giving them the confidence to challenge inequality and strive towards racial justice for everyone.
Find out what inspires Yassmin Abdel-Magied in this Q&A or watch her introduce Stand Up and Speak Out Against Racism:
Reviews
Jane
There is so much to this book, Stand Up and Speak Out Against Racism: personal experience (the author knows what it's like to be on the receiving end of racism, so it is not just an academic text on the subject); comprehensive discussion of all aspects of racism, including helpful definitions; clear explanation of the link to other issues such as culture and ethnicity, history and power, stereotypes and activism; and practical suggestions (including possible dialogues) on how to 'stand up and speak out'. So much to take in and think about!
Yassmin writes unashamedly from a Muslim perspective (her own background), celebrating what she and other Black women and girls can be and achieve. It will be an encouragement to such readers, but will also prompt readers of all backgrounds to understand better how society works in favour of some and to the detriment of others. The image of some having jetpacks to climb the 'imaginary mountain of life', while others are hindered by lead weights or blocked paths, is a useful one.
I found Stand Up and Speak Out Against Racism challenged me to question my own behaviour and to query some assumptions and 'facts'.  This is certainly a book to keep revisiting, to have on the library shelves and to use in the KS2/3 classroom, perhaps for PSHE lessons.
128 pages / Reviewed by Jane Rew, school librarian
Suggested Reading Age 9+
Julie
Yassmin Abdel-Magied is an author, a social activist, an engineer and a broadcaster. After visiting young people in schools, she asked them what they wanted to know about racism and social injustice. Stand Up and Speak Out Against Racism is the result of the conversations that she has had with young people.
The book is set out in easy to dip into sections and clearly signposts the reader to each section. The book is divided into three distinct sections. The first looks at how racism started, dealing with the origins of racism and explaining the background and the history of racism. The second section is what racism looks like today. Yassmin highlights to the reader the four different ways racism appears and the impact that it has on daily lives. The final section is all about how we can stand up to racism. This section gives readers tips, tricks and advice on how to stand up and speak out against racism.
The book is bright, bold and colourful and the illustrations by Aleesha Nandhra really enhance the message of the book. I really liked how Yassmin Abdel-Magied gives the reader permission to breathe and to recognise that the book can provoke really intense emotions. She also gives the reader strategies on how to acknowledge these thoughts and feelings. The book also contains a brilliant glossary of terms used throughout the book.
Stand Up and Speak Out Against Racism has the capacity to really make the reader think not only about racism in today's society, but also what we can do to build a better, safer, fairer world for everyone.
128 pages / Reviewed by Julie Broadbent, school librarian
Suggested Reading Age 11+
Louisa
Stand Up and Speak Out Against Racism is an ambitious book: it sets out to help make the world a fairer place for everyone by investigating racism. Words from Yasmin Abdul-Magied and pictures from Aleesha Nandra work effectively together to explore three key questions: why racism exists, how it works and what we can do about it.
Each section is divided into short and highly readable subsections, written in an informal conversational style. This is both a strength and a weakness. It's a very accessible starting point to get young readers engaged in a really important dialogue: the author has a gift for providing analogies, expressing herself clearly and limiting the density of subject matter. Inevitably, however, as the text is short, complexities are simplified, particularly when addressing the history of racism, and opinions are subtly interwoven with the facts.
To avoid misconceptions, I think it would be important to supplement its use with books that treat the subject in more depth, like those of David Olusoga. Different chapters are deliberately aimed at different audiences: some to those experiencing racism, others to those more likely to be witnessing or perpetuating it. It took me a while to get used to this but it's a good way to encourage everyone to understand opposing perspectives.
The strongest section, for me, was the final part, with practical advice on how to 'stand up and speak out'. Who could possibly disagree with the author's view that we need to root out racism? It may be an uncomfortable subject but it's critical that we continue to address it, by informing ourselves and children in school and by encouraging dialogue and responsible action. This book offers primary classrooms, and homes, some useful openings for discussion and practical tips for calling out racism and, as such, it's to be welcomed.
128 pages / Reviewed by Louisa Farrow, teacher
Suggested Reading Age 9+
Other titles