Starfell: Willow Moss and the Lost Day (Starfell, Book 1)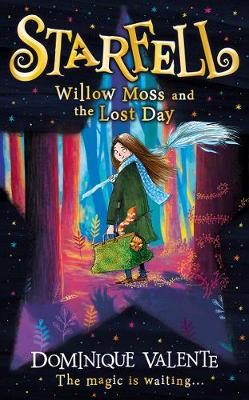 By Author / Illustrator
Dominique Valente, Sarah Warburton
Genre
Adventure
Age range(s)
9+
Publisher
HarperCollins Publishers
ISBN
9780008308391
Format
Hardback
Published
02-05-2019
Synopsis
The most spellbinding new children's fantasy series of 2019, in a stunning hardback edition with beautiful black-and-white inside illustrations by Sarah Warburton. Perfect for fans of Cressida Cowell and Nevermoor.
Willow Moss, the youngest and least powerful sister in a family of witches, has a magical ability for finding lost things - like keys, or socks, or wooden teeth. Useful, but not exactly exciting . . .
Then the most powerful witch in the world of Starfell turns up at Willow's door and asks for her help. A whole day - last Tuesday to be precise - has gone missing. Completely. And, without it, the whole universe could unravel.
Now Willow holds the fate of Starfell in her rather unremarkable hands . . . Can she save the day - by finding the lost one?
Step into Starfell, a world crackling with warmth, wit and magic, perfect for readers aged 8-12.
Reviews
Linda
Witches, magic, dragons, a grumpy cat, oops sorry a Kolbold! Flying broomsticks, trolls and a map of a magical fantasy world, what more could a reader want? Nothing! This debut novel has got it all and will keep many readers from 8+ totally engaged in its plot with all its magical twists and turns. Willow is the youngest child in a family of witches, she also seems to have the weakest power, as the only magic she can do is find lost things, (I could do with her all the time!) but Willow soon finds out that she is so much more with the adventure she is about to go on... Tuesday (the day of the week) has gone missing, no one can remember what happened on that day and it's causing so many problems. The most powerful witch in Starfell, Morag Vaine, needs Willow's help to find the day, but she cannot just summon it as it will cause the end of the world! ... can she find the day to save the day?You will have to read this wonderful story to find out. The author has set the book out in a very imaginative way that will keep any reader interested. The book starts off with a black and white illustration of Starfell and these delightful illustrations by Sarah Warburton pop up all through the book, helping to feed the imagination of the reader. I personally loved the pictures of Oswin, the monster from under the bed, and Feathering, a beautiful dragon that is covered with soft blue feathers. Back to Oswin, he's a Kolbold that lives under Willow's bed; as she hasn't got many possessions she takes him along on her adventure. Oswin's grumpy nature provides plenty of humour in the story and makes him the star of the show ( he would be so pleased to know this!) but, seriously, the characters in this book are delightful, engaging and truly unique. Each 286 pages of this magical book have been a joy to read. Starfell would be great for confident / non-confident readers of 8+ and also older less confident readers. I believe this would also make a great book to read aloud to younger children during tutor time and be great for intervention groups and reading clubs. Starfell: Willow Moss and the Lost Day will have you hooked from the very first page and I cannot wait to read the next adventure Willow will go on in book 2. I just hope we get to revisit some of the characters we have met in this one and meet many more new ones from Dominique's (the author) fantastic imagination. 288 pages / Ages 8+ / Reviewed by Linda Brown, school librarian
Suggested Reading Age 7+
Megan

- Age 11
Starfell is about a girl called Willow Moss, the youngest and least powerful sister in a family of witches. Willow may not be all powerful but she has an uncanny knack of finding lost things-socks, keys, even wooden teeth! Not an exciting gift but useful when it comes to finding a missing Tuesday, last Tuesday to be exact which has disappeared completely. This story is packed with magic, adventure and mystery in equal measure. Willow is a bit misused at home, her gifts are only good for finding money for her sisters and Willow quickly gets sick of this, wanting to use her powers to actually help people. All of a sudden last Tuesday has gone missing and nobody remembers what happened on that day. Willow undertakes the mission to find last Tuesday and restore everyone's memories. I found this book very funny, quite heartfelt and a fantastic read. The story is very inventive, it kept me engrossed the whole way through. I couldn't put it down. Perfect for fans of magical books.
Suggested Reading Age 9+
Emily
Willow Moss is nobody special. True, she was born into a magical family and has special abilities, but the ability to find missing socks and lost keys could hardly be considered extraordinary. As the least powerful member of her family, Willow is often overlooked, especially by her mother and sisters. She is given the responsibility of caring for old Grandmother Flossy who, despite being kind and supportive, isn't entirely in her right mind, due to a terrible potions accident. It isn't until the great witch Moreg Vaine seeks out Willow, offers her a cup of tea and asks for her help, that Willow begins to realise that her magical abilities might be worth something. Moreg Vaine is in need of a finder, and Willow Moss's special talents are exactly what Starfell needs to uncover the secrets of the lost spells and a missing day. For the whole of Starfell to lose a day was quite remarkable. So many mundane moments make up an ordinary day, but Willow's insight allows her to see the value and significant of even the most ordinary of days, and their extrordinary significance. She must get that day back so that it doesn't simply vanish from memory. However Willow must overcome her own deep insecurities before she is able to see her magic's value and worth and its significance to this quest; she needs to understand that great adventures don't need big magic, maybe you've just got to be willing the try No magical adventure should be undertaken alone and Willow has her grumpy monster under the bed, Oswin, for company, but also makes some remarkable friends that come to her aid in her darkest moments: Nolan Sometimes the forgotten teller, who can see into an individual's past; Feathering the dragon, searching for his own missing family; Calamity the troll, who appears out of place amongst her own kind and Essential Jones, a fellow young witch with a knack of picking locks that comes in very handy. Willow soon comes to realise that even in the darkest, most hopeless of times there is always a choice, and she is grateful for the helpful and supportive choices of her quest companions in helping her to carry out Moreg's wishes. A magical story that teaches the valuable lesson that, "it's not about what you've got; it's about what you do with the little bit of what you have that matters most." Wonderful characters, a classic magical quest story line and a self doubting heroine make this a book to really fall in love with. Perfect for more confident readers and anyone who loves a fantasy setting. Willow's bravery amidst challenges and her thoughtful nature will leave readers feeling uplifted and encouraged to face their own challenges. 288 pages / Ages 8+ / Reviewed by Emily Beale, librarian
Suggested Reading Age 7+
Other titles