Starfell: Willow Moss and the Vanished Kingdom (Starfell, Book 3)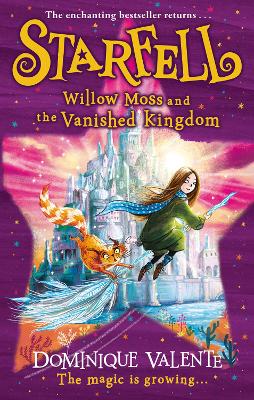 By Author / Illustrator
Dominique Valente, Sarah Warburton
Genre
Magical Realism
Age range(s)
7+
Publisher
HarperCollins Publishers
ISBN
9780008308476
Format
Hardback
Published
04-03-2021
Synopsis
For the very first time, magical children like Willow are allowed to go to school alongside their non-magical neighbours. But Willow is suspicious. She knows the Brothers of Wol are up to no good, so why are they changing the rules all of a sudden?
On her first day, Willow meets an elf girl named Twist, and soon they are embarking on Willow's most urgent mission yet: to protect the children of Starfell, uncover the mystery of a long-lost kingdom - and prevent the very source of magic from getting into the wrong hands . . .
Reviews
Andrew
Returning to Starfell with Starfell - Willow Moss and the Vanished Kingdom was an absolute joy! Magical children are being allowed to go to 'normal' schools, but Willow Moss is suspicious. With faithful and grumpy companion Oswin by her side (in his hairy green carpetbag), she meets an elf called Twist Howling, who controls the icy North Wind and 'normal' child, Peg. They soon realise things are not as friendly as appears and escape from school. If they are to solve this mystery and put an end to the plans of the Brothers of Wol, they must find a kingdom that vanished thousands of years ago! With the help of friends old and new, Willow once again sets out to save Starfell.
This is a brilliantly told story, set in a world lovingly created and then finally brought to life by the brilliant illustrations of Sarah Warburton. The ending sets the reader up for the next adventure, which may be Willow's toughest test yet!
288 pages / Reviewed by Andrew Mullen, teacher
Suggested Reading Age 7+
Jacqueline
In the world of Starfell, magical children are being allowed the go to school with the non-magical children for the first time. Willow Moss, a witch with the ability to make things appear or disappear, is not so happy about going to school. She is worried that the mysterious Brothers of Wol, lead by Silas, have something nasty planned for the magical children.  On her first, rather disastrous day at school, Willow meets an elf girl called Twist and a human boy called Peg and together they set about trying to save the magical world and stop all the magic from ending up in the wrong hands.
Starfell - Willow Moss and the Vanished Kingdom is the third book about the magical world of Starfell and the young witch Willow Moss. Whilst it can be read as a stand-alone story, it is definitely better to have read the other two books first. The aspect that is strongest about all three books is the wonderful detail in the world building. I really want to visit the Elf city and even more so want to go to the town of Library (mentioned only briefly in this book.)  The characters are all intriguing and Willow always feels herself to be different and somehow less than her clever older sisters.
Sarah Warburton has illustrated all three books but here she seems to have hit new heights. The illustrations are wonderful, some full page and others just dotted around. They really add to the story and they seem to completely capture the humour and the magic. This book is perfect for anyone who dreams of magical lands and amazing adventures. It ended with a cliff hanger and now I am looking forward to the next instalment.
288 pages / Reviewed by Jacqueline Harris, teacher
Suggested Reading Age 7+
Sue
When magical children are allowed to attend school for the first time in Starfell: Willow Moss and the Vanished Kingdom, Willow is suspicious. Strange things have been happening, a priceless scroll has been stolen and 'The Grimoire Gazette' has been dismissing or ridiculing the urgent letters Willow has been writing. At school, she meets Twist Howling, an elf, and Peg and together with Oswin (ever present in the hairy green carpetbag), they all escape on a magical adventure to find a kingdom which vanished thousands of years before.
Dominique Valente has done it again with another wonderfully enchanting adventure for Willow Moss. Stunning world building and delightful characters combine with skilful storytelling as Willow's stories get better and better. Vivid descriptions bring both locations and characters magically to life, with the new faces encountered in these pages as captivating as those well established. Twist Howling is every bit as wonderful as her name implies, introducing the reader to the Elven world, the lost kingdom of Llandunia and the truth of their history, dismissed by many as myth. Peg also proves himself to be a loyal friend whilst Oswin continues to steal every scene, imparting some surprising - and very useful - wisdom along the way.
Threads from all the books are woven seamlessly together in this latest adventure. The ending is satisfying, but perfect for leading into the next adventure which I hope will be with us before too long. Once again, the book is beautifully illustrated inside and out by Sarah Warburton whose pictures add so much to the enjoyment of the story. Just wonderful!
288 pages / Ages 8+ / Reviewed by Sue Wilsher, teacher
Suggested Reading Age 7+
Other titles