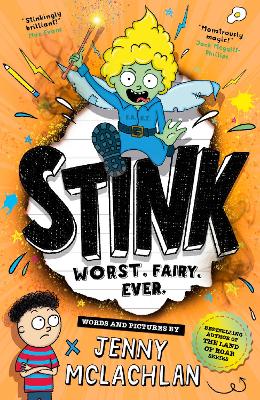 By Author / Illustrator
Jenny McLachlan
Genre
Funny Stories
Age range(s)
5+
Publisher
HarperCollins Publishers
ISBN
9780008524272
Format
Paperback / softback
Published
16-03-2023
Synopsis
A laugh-out-loud diary-style story written and illustrated by the bestselling author of the Land of Roar. Perfect for fans of Loki and Diary of a Wimpy Kid.
We all know fairies. They're sweet and sparkly and lovely. Right?  WRONG! Meet Stink. Stink is the rudest, naughtiest fairy there's ever been. Instead of sparkles, Stink makes mess. Instead of being kind, Stink plays pranks. She also eats woodlice and rides on rats.
From the moment Stink flies out of the fairy door and attaches herself to his hair, Danny knows that Stink is trouble. She needs his help to do a good deed and win her silver wings - and Danny will do anything to get Stink to go back to fairyland. But can Stink ever be good?  
A laugh out loud adventure featuring the world's worst fairy, multiple multi-coloured foxes and loads of troll poo.
Reviews
Amanda
We all remember those surprise birthday presents when we think that people have bought us things that they wanted! None of us have received a present like Danny Todd was given by his little sister Sophie. Out of an innocent looking fairy door came Stink, the rudest, naughtiest fairy that there has ever been. From the moment Stink attached to Danny's hair, he knew that she was going to be trouble. How will he earn the fairy nuggets to make her go back to Fairyland? What happens when a gnome and a troll join her in Danny's room?
As you read this cleverly written diary you are taken into 11-year-old Danny's world, complete with laugh-out-loud moments and times when you feel like it would be your worst nightmare. Jenny has carefully chosen a dyslexia-friendly font with wide line spaces to make it visually appealing to pupils who often struggle to ead. It will draw children in with the antics of Stink and her friends and will be hooked by the humour.
Once I started reading this book I could not put it down and read it cover to cover. I have already identified pupils who I know will be inspired to read for pleasure thanks to this book. I cannot wait to share it with them. This is a fairy book which is a must read for all children.
240 pages / Reviewed by Amanda Shipton, teacher
Suggested Reading Age 5+
Other titles