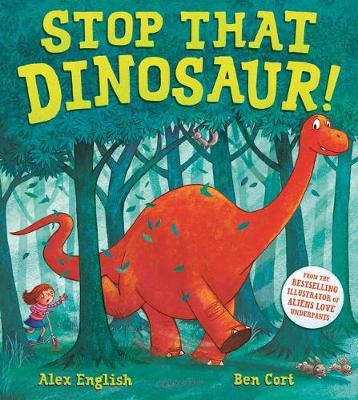 By Author / Illustrator
Alex English, Ben Cort
Genre
Picture Books
Age range(s)
3+
Publisher
Bloomsbury Publishing PLC
ISBN
9781408888414
Format
Paperback / softback
Published
04-03-2021
Synopsis
I was in my Granny's kitchen eating extra-special cake,when the walls began to tremble and the roof began to SHAKE.KNOCK! KNOCK! KNOCK! Ring! Ring! Ring! Oh MY - a dino's at the door.And now it's taken Granny ... SOMEONE STOP THAT DINOSAUR!Chase down the GRAN-NAPPING brontosaurus in this rollicking, rhyming, ROAR-some romp. Can you catch the naughty dinosaur and get back to Granny's house before Mum comes home at six o'clock?From Alex English and Ben Cort, the bestselling illustrator of Alien Loves Underpants, comes an irresistibly rib-tickling book that kids will want to read again and again ... and AGAIN!
Reviews
Joanna
A heart-warming and creative tale about a lonely dinosaur and his need for a Granny. How wonderful to read a story that include the importance of Grandparents and the key role they play in the lives of children. Stop that Dinosaur is an imaginative, exciting, adventure about a little girl who is visiting her Granny's house, when suddenly a dinosaur appears and snatches her up, running away with Granny hanging in his mouth.
The little girl chases after her Granny, but the dinosaur shows no signs of stopping. The little girl shouts "Stop that Dinosaur!" on each page as she chases him through the park, the town, the farm and fields and finally into the woods. But it's not until she cries, "I want my Gran!" and tells the dinosaur why her Granny is so important to her that the dinosaur stops to reflect; he stole Granny because he was lonely and wanted a Granny of his own.
This picture book is delightful in so many ways. The rhyme and rhythm make it a fast paced and enjoyable text, whilst the illustrations are bright and colourful, making this book accessible for any child. My daughter (aged 5) absolutely loved shouting out "Stop that Dinosaur!" on every page and giggled with delight when he simply kept running with the hilarious image of Granny hanging from his mouth.
The heart-warming focus on the importance of Granny and everything she means to the little girl, is simply wonderful. In a period where Grandparents are often key roles in the parenting of children or for childcare, it is lovely to pick up a book that reflects how much children love spending time with their grandparents. The dinosaur is cheeky and loveable, not scary, so this book is great fun to read at bedtime. You can't help but feel very sad for the dinosaur and so glad when he finally finds some family to love and visit, just like the little girl.
Picture book / Ages 3+ / Reviewed by Joanna Hewish, teacher
Suggested Reading Age 3+
Other titles