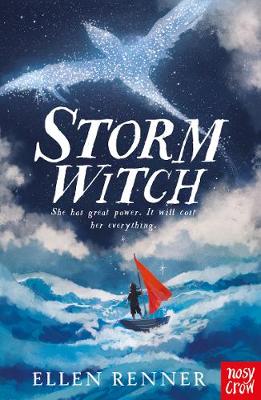 By Author / Illustrator
Ellen Renner
Genre
Fantasy
Age range(s)
9+
Publisher
Nosy Crow Ltd
ISBN
9780857636409
Format
Paperback / softback
Published
06-09-2018
Synopsis
Child of Air, Water, Earth or Fire: now that she is thirteen Storm must undertake The Choosing and be claimed by one of the Elementals, which will determine her whole life's work. But for Storm, daughter of a father murdered by Water and a warrior mother claimed by Earth, there will be no easy destiny. The Elementals bestow her with a great and terrible gift. Storm-bringer. Storm-rider. Storm-queller. Storm has powers that no one, not even the island Elders, can understand. And when the Drowned Ones - a savage band of pirates who roam the seas on floating towns - attack her island, will her powers help her to save the people she loves, or is her fate to betray everything she holds dear? Soon Storm faces a decision that will change her life - and that of everyone who lives on her island - forever.
A powerful new fantasy series from Ellen Renner, prize-winning author of Tribute and Castle of Shadows.
Reviews
Daniel
It is the time of The Choosing, the rite of passage ceremony when all of the island's 13 year olds are chosen by one of the four Elementals - Earth, Air, Fire and Water. Most people are chosen by one Elemental, but Storm is afraid that she may not be chosen at all.

Storm has always been different: she has a boy's name, and she doesn't know why; she has a fear of the ocean (not good for seafaring island folk) since losing her father to it; and her family seems to be cursed. However, at The Choosing she is selected by not one but three Elementals, while the fourth tries to kill her. The Elementals also bestow great power on her, more power than the village Elders have seen in generations - a power she could use to protect her people from the Drowned Ones, an invading hoard of pirates on their floating towns. But, after an unexpected discovery, Storm must make a difficult decision that could have dire consequences for everyone on the island.

Storm Witch, the first book in a new coming-of-age fantasy series, is an enjoyable adventure story, full of magic, tension and heart. The world building is fantastic: the island's culture feels real and lived-in, the religion and customs shaped by the land- and seascape. The book deals with issues such as bullying, loyalty, marginalisation, loss and xenophobia, from the perspective a young protagonist who is afraid of her own strength. I really liked the ambiguous morality in the book - The Drowned Ones, for example, could so easily have just been written as evil invaders, but are instead presented with surprising nuance.

This book felt like the start of a story, rather than being a complete tale in and of itself. It sets up the rest of the series nicely, and I look forward to seeing where the writer takes us in the next instalment!

I would not hesitate to recommend this to fans of fantasy adventures, but also to students who enjoy reading seafaring tales and battles. It would be a great resource to teach world building to budding creative writers.

256 pages / Ages 10+ / Reviewed by Daniel Katz, school librarian.
Suggested Reading Age 9+
Nicki
With The Choosing looming, Storm knows her destiny is about to be revealed. Which of the four Elementals will claim her as her own, determining her future in Yanlin? Last to undertake the Choosing, Storm visits the shrines where her fear of not being chosen by any of the Elementals is replaced by a much bigger one, for she has had a great gift bestowed on her. Can she accept it and harness its power to save her people, or will she turn her back on it and betray everything she holds dear?

Beautifully written, emotionally intelligent and with a powerful, pacey plot, that twists and turns like a tornado, Storm Witch is a spellbinding fantasy that draws you into the world of Yanlin and entwines you with its characters.  With each turn of the page, I felt my feet plant themselves more firmly on the streets leading to the harbour, smelt the salty tang of the sea and heard the hustle and bustle of the town as Yanlin's people went about their lives.

Storm is a great character; her emotions are raw, real, understandable and make her easy to relate to. Mixi, as her enemy, is very easy to dislike, yet feel sympathy for. I adored Teanu for her quiet strength, her kindness and compassion, and her steely command of any situation. She reminded me so much of my Nan!

Nim provides the most complex character - hero or villain, friend or foe? It is through his eyes that The Drowned Ones, seen as savage pirates by the people of Yanlin, are given a different narrative. This provides huge food for thought and would be a great discussion topic in class, resonating deeply with issues in our world around displaced people and refugees.

I can't wait to see what happens next in this powerful series; with three more books, there's a lot of thought-provoking adventure still to come.  A great choice for fans of Mold And The Poision Plot, Sky Song, Phoenix and The Apprentice Witch.

256 pages / Reviewed by Nicki Cleveland, school librarian.
Suggested Reading Age 9+
Other titles