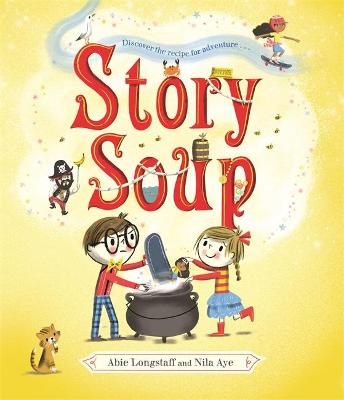 By Author / Illustrator
Nila Aye, Abie Longstaff
Genre
Fairy Tales & Folk Tales
Age range(s)
5+
Publisher
Templar Publishing
ISBN
9781787415591
Format
Paperback / softback
Published
08-07-2021
Synopsis
A picture book about how to brew an unexpected story from the author of the Fairytale Hairdresser series, and the illustrator of Fearless Mirabelle.Ollie and Susie are mixing a story soup in their kitchen. They think it will be easy to brew a story, but every time they throw an item into the soup the story takes an unexpected turn. Ollie wants a skateboarding story; Susie wants one about a princess - so they end up with a twisting turning tale about a skateboarding princess and a pirate who is a reluctant bad guy. But what happens when the story soup gets out of control? Will Ollie and Susie be able to work together to save the day?
Reviews
Maria
The front cover of Story Soup is full of details about the characters and what might happen in the story, and it's a great hook into this book by Abie Longstaff and Nila Aya.
We meet Ollie and Susie who are keen to create a story with lots of unusual items. Their magic 'story soup' creates adventures with a skateboard, a princess and even a vampire pony! These random items weave into a fairy tale where Ollie and Susie need to intervene to help rescue Princess Adelina and even Captain Barnacle. There are lots of familiar fairy tale phrases to join in with and the opportunity to escape on magical adventures. The illustrations are bright and detailed and show the mood of the characters as they add each ingredient to make a new story.  The 'Story Soup Recipe' is a brilliant addition to the book and ensures that stories can be created and enjoyed by the youngest readers.
This book was thoroughly enjoyed by my class and they loved following the Story Soup Recipe! Great fun!
Picture book / Reviewed by Maria Aldred, teacher
Suggested Reading Age 5+
Other titles