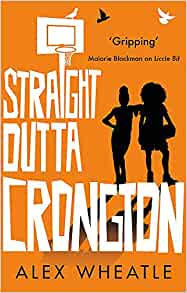 By Author / Illustrator
Alex Wheatle
Genre
Social Issues
Age range(s)
11+
Publisher
Little, Brown Book Group
ISBN
9780349002880
Format
Paperback / softback
Published
06-04-2017
Synopsis
THE NEW NOVEL FROM THE WINNER OF THE GUARDIAN CHILDREN'S FICTION PRIZE 2016

Round these ends, it's hard to hold on to your dreams

Life's a constant hustle for Mo. Her mum's boyfriend Lloyd is just another man who likes to beat down women; the South Crong streets are fraught with hazards and nasty G's; and when it comes to matters of the heart . . . she's still hung up on Sam.

No wonder she's vexed so much of the time.

Thank god her sistrens, Elaine and Naomi, are on her side: if one of them falls then they all fall.

But when badness goes down and a life is left hanging in the balance, Mo has to face her hot urge for revenge . . . and she might end up losing more than she wins.
Reviews
Carol
The third novel in Alex Wheatle's Crongton series turns its attention to 15 year old Mo, at odds with her mother and Mum's boyfriend Lloyd. Mo's dinner money is taken from her by Lloyd, and their escalating friction has led to him hitting her hard enough to knock her on the floor. She is determined not to stand for this, but her mother (for reasons we find out about later in the book) is unwilling or unable to stand up to him. The storyline deals with Mo's determination to get revenge on him, which leads her into involvement in the local gang warfare, which is never far from the lives of these young people. This may sound a bit grim, and serious themes are there, but the book is also extremely funny, particularly in the banter between the characters, and the richness of the language. Alex Wheatle has perfected a rich language for his characters, which sounds like a convincing slang, as well as being fun to read, but will not date as genuine youngsters' talk would. This is the first of the series with female characters at the centre, and the relationship of the three friends, the 'sistren', really comes alive. They are different; Elaine (older sister of Liccle Bit from a previous book) is level headed and sensible, and wants to do well at school, while extrovert Naomi has a wilder streak, with a troubled family background and a love of shoplifting which gets her into trouble. Mo herself is a strong character, who is determined not to be a victim, but it is this trait, together with her anger, that leads to her involvement in gang violence, with tragic consequences. But the friends are all there for each other, when sometimes family members are not. There are also some older adults who support the youngsters and provide positive role models. There is a romantic thread to the plot, with Sam, an aspirational young man, who Mo has known as a friend all her life. She has strong feelings for him, although he is currently dating another girl, and as the book moves on Sam and Mo start to explore their feelings. The book deals with tough topics - gang violence, friendship, loyalty, domestic abuse and revenge. But importantly, it is a great read with believable characters and the serious consequences in the story are lightened by its humour. 304 pages / Ages 14+ / Reviewed by Carol Williams, school librarian.
Suggested Reading Age 11+
Other titles