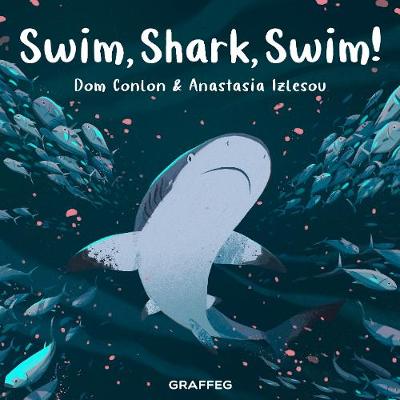 By Author / Illustrator
Dom Conlon, Anastasia Izlesou
Genre
Animals
Age range(s)
5+
Publisher
Graffeg Limited
ISBN
9781914079054
Format
Paperback / softback
Published
04-03-2021
Synopsis
'It is incredibly important for young learners to appreciate the beauty of our oceans from an early age. That is why it is great to see books such as Swim, Shark, Swim!, with its fascinating story of the journey of a black tip shark as it travels around the world, meeting other sharks and marine creatures along the way. The illustrations are colourful and really bring the pages to life. Hopefully young readers and their families will be inspired to find out more and how to support ocean conservation and awareness raising efforts in the UK and abroad, after being inspired by reading this book.' Susannah Rodgers MBE, Ocean Ambassador (Marine Conservation Society UK).
Swim around the world with Shark as he explores ocean forests and coastal reefs, meeting Hammerheads and Great Whites, stingrays and dolphins in a search for the place he calls home.  Some of the species covered include: Blacktip reef shark, Tiger shark, Humpback whale, Bottlenose dolphin, Great white shark and many more.  This is the second book in the Wild Wanderers series written by Dom Conlon and illustrated by Anastasia Izlesou.
Reviews
Emma
Swim, Shark, Swim! is an absolute delight. It is the second book in the Wild Wanderers series (Leap, Hare, Leap! is the first book) and it introduces children to a reef Shark and its imaginary journey through some of the world's waters.
The text has some interesting and emotive language that may require some explanation depending upon the age of the child - such as 'rocket of flesh' or 'cathedral cold waters'.

The book is illustrated by Anastasia Izlesou and its pages are filled with the most glorious pictures, most of them in a palette of blues and greens.

Whilst telling the story in my KS1 class, it was important to inform the children that reef sharks are bordering on extinction. We had class discussions on different types of species that were either extinct or are in danger of becoming extinct.

There are so many lessons that could be planned around this book - poetry, art, music, and English - and it was an absolute joy to read to my five and six-year-old pupils.

36 pages / Reviewed by Emma Nelson, teacher
Suggested Reading Age 5+
Other titles