Tasting Light: Ten Science Fiction Stories to Rewire Your Perceptions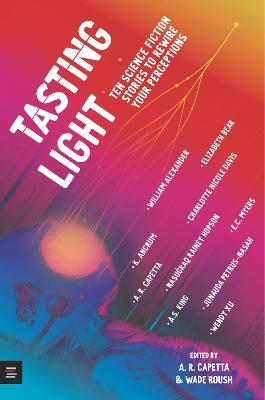 By Author / Illustrator
A. R. Capetta
Genre
Science Fiction
Age range(s)
11+
Publisher
Walker Books Ltd
ISBN
9781529510966
Format
Paperback / softback
Published
03-11-2022
Synopsis
A mind-bending science fiction anthology from ten top YA authors perfect for fans of Black Mirror, Lauren James and Femi Fadugba's The Upper World. 
Imagine a world where robots with human consciousness roam the earth; a society where you can change everything about how you look, sound and interact, and even inherit a voice from the dead; and a universe where a city in space can be destroyed with a kiss...

In stories buzzing with possibility, hope, innovation, anger and tenderness, ten top YA authors imagine what the world could be through the lens of technologies emerging today. Tasting Light is a dazzling challenge to open your mind, heart and senses, and rewire your perceptions.

With stories by:  William Alexander, K. Ancrum, Elizabeth Bear, A.R. Capetta, Charlotte Nicole Davis, Nasugraq Rainey Hopson, A.S. King, E.C. Myers, Junauda Petrus-Nasah and Wendy Xu

"Unique, brilliant, and brimming with hope." BuzzFeed.  "Joyfully queer and diverse, this is a jump forward into a bright and colourful world." Lauren James, author of The Loneliest Girl in the Universe.  "A diverse anthology showing hopeful futures imagined through the lens of technology [...] A top-notch hard science fiction collection." Kirkus (starred review)
Reviews
Stephen
Tasting Light is a collection of ten science fiction short stories. It's a gripping, exciting and thought-provoking collection of stories, brought together by A.R. Capetta and Wade Roush. You'll find themes of identity, technology, surveillance and suppression run through these stories. There are brilliant twists in many, and queerness and diversity spirals through these tales some set on earth, others in space. And while each story is complete, they all left me wanting to know more about these characters and situations, which is great writing!
I also enjoyed the variety of settings and situations and the different formats used to tell these tales including illustrations (Memory of Soil), surveillance and data transcripts (The Cage) and use of different time periods (Smile River). This gave each a very distinct feel which added to the character of the story. They all have a very real feel to them which makes them all the more edgy - could these things happen, should they happen, what if they already are? Also at the end of the book each author gives a bit of information about why they wrote their story which I found very interesting.
All these stories are superbly written, several in particular stood out for me. 'Cadance' follows a non-binary teen looking to find their voice from a voice transplant - emotional and poignant. In 'Melanitis', side effects from expectant parents taking a drug to enhance their child's intelligence is turning the young people's skin from white to brown. This provided several pause for thought moments about race and identity especially when one character says "Same person, same soul, but one skin will protect him, while the other will get him killed." A very current and urgent story. 'Twin Strangers' got me thinking about the impact AI could have on society, even on a small scale, when Liam's online virtual twin (or 'dop') decides to think and act for itself. And thinking for yourself and surveillance is picked up in 'The Cage' as the unexplained disappearance of Nicky, including from all surveillance and tracking devices, starts an investigation into his whereabouts using snippets of transcripts of recorded data - it's unnerving the information that is potentially available about us. In the cross generational 'Smile River', a story as dystopian as it is science fiction, women are subject to regulation by the state including the need to smile at all times. Different family members called Rose explore this powerful and sometimes harrowing story.
I cannot recommend this collection highly enough. Whether you are new to science fiction or an established reader, whether you dip in and sample just a few stories or immerse yourself in the entire selection, these stories will stay with you long after you have finished reading them. A sparking and diverse array of stories await you - ten stories, ten futures, multiple possibilities!
320 pages / Reviewed by Stephen Leitch, school librarian
Suggested Reading Age 14+
Other titles