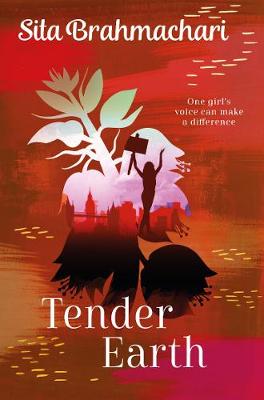 By Author / Illustrator
Sita Brahmachari
Genre
Personal Growth
Age range(s)
9+
Publisher
Pan Macmillan
ISBN
9781509812509
Format
Paperback / softback
Published
01-06-2017
Synopsis
Laila Levenson has always been the baby of the family, but now with her older siblings, Mira and Krish, leaving home just as she starts secondary school, everything feels like it's changing... can the reappearance of Nana Josie's Protest Book and the spirit it releases in Laila, her friends and her local community, help her find her own voice and discover what she truly believes in?

A powerful chime rings through Laila's mind, guiding her to walk the footsteps of the past on her way to discover her own future.
Reviews
Rhiannon
Tender Earth is the most important book I have read in a long time. It is a book of self-discovery, not only for the main character, 12-year-old Laila Levenson, but also for the reader. As Leila navigates her way through a changing family life, a new school and new friends, she is finding her own place in the world and through her Nana Josie's Protest Book, becomes a voice for change.

Tender Earth addresses complex human rights issues and challenges assumptions that are so relevant to the current climate across the world, while also telling a heartfelt tale of friendship and family closer to home. The journey is inspiring, emotional, viewpoint-changing, beautiful and above all accessible and relatable.

While I recommend this book for those aged eight and above, I will be recommending this to anyone who will listen. It sends a strong message of diversity and hope for the future. Additionally, it would be an excellent read for class discussions across the curriculum. 412 pages that seemed more like 41. A must-read!

412 pages / Reviewed by Rhiannon Cook, school librarian.
Suggested Reading Age 9+
Catherine
Gentle, beautiful story of Laila Levenson as she struggles to find her place in her family, her friendships and her community.

Laila is starting secondary school just as her older brother and sister are leaving home; it's a time of change in the household and Laila is feeling a little bit lost. She's also trying to find a connection with her Nana Josie who everyone in her family has memories of but who she never met. To cap it all, things are a bit awkward between Laila and her best friend, Kez.

Sita Brahmachari uses the idea of walking in someone else's shoes - metaphorically and literally - through the book to better understand and inform people. The challenges of transition from primary to secondary provide the perfect backdrop to remind us that first impressions and initial judgements can be flawed, something all Year 7s can relate to.

Tender Earth is endorsed by Amnesty International UK 'because it illuminates the importance of equality, friendship and solidarity, and upholds our right to protest against injustice'.

432 pages / Reviewed by Catherine Purcell, school librarian.
Suggested Reading Age 9+
Other titles