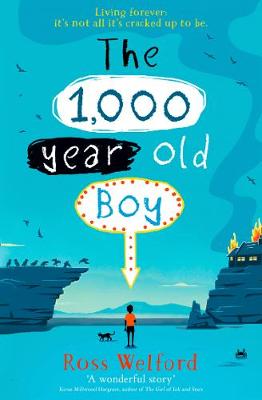 By Author / Illustrator
Ross Welford
Genre
Friends and family
Age range(s)
9+
Publisher
HarperCollins Publishers
ISBN
9780008256944
Format
Paperback / softback
Published
11-01-2018
Synopsis
The astonishing, beautiful new story for all readers of 10 and over from the bestselling and Costa-shortlisted author of TIME TRAVELLING WITH A HAMSTER.  'A wonderful story' Kiran Millwood Hargrave
There are stories about people who want to live forever.  This is not one of those stories. This is a story about someone who wants to stop...  Alfie Monk is like any other nearly teenage boy - except he's 1,000 years old and can remember the last Viking invasion of England.  Obviously no one believes him.  So when everything Alfie knows and loves is destroyed in a fire, and the modern world comes crashing in, Alfie embarks on a mission to find friendship, acceptance, and a different way to live... which means finding a way to make sure he will eventually die.
Reviews
Isla
I think the 10000 Year Old Boy is really good. It ends the final chapter making me want to read more, and it's more my type of book so I'm definitely gonna read the other books because of how good this story is.
Suggested Reading Age 11+
Rylee

- Age 12
I liked that the boy showed bravery also I like the fact that the book told a message and the message was that no matter how hard life is you should not always give up. Also it shows you to also be confident and don't loose hope and you could always make new friends.
Suggested Reading Age 11+
Michelle
I really love this book, it's got loads of adventure in it. Alfie is trying to be a normal 11 year old except he's 1000 years old and can remember all the kings, queens and the last Viking invasion in England .
Suggested Reading Age 9+
Amelia
This was a fantastic book. I loved every page, and this book has made me realize that living forever would not be good at all.
Suggested Reading Age 9+
Lola

- Age 10
In this book two people want a pearl to make them start growing again. Biffa the cat and Alfie Monk want to live their lives, and it made me proud of myself for who I am.
Suggested Reading Age 9+
Josie

- Age 11
I loved this book, with heartbreak and friendship and adventure and so much else.. It was exciting but scary, everything I hoped it would be! I would give it 10/10
Suggested Reading Age 9+
Nicola
In The 1,000 Year Old Boy, Alfie wants to be like any other 11 year old, which is a bit tricky when he's actually over a thousand years old. He longs for a friend, but knows the only way he and his mother can stay where they are is to keep themselves to themselves.  When Roxy and Aidan come crashing into their lives, and a fire destroys their home, Alfie knows the time has come to live a different life. But, there is only one way to do that, and for all his years on earth, time is now running out.

Bittersweet, heartwarming and life affirming, Ross Welford has created a wonderful story celebrating friendship, trust and hope, while blending modern living with history. Told from two different perspectives, Alfie and Aidan's stories are woven together seamlessly and it's clear to see how the three main characters use their different strengths to cement their friendship and support each other.

Thank you Ross for yet another thoughtful, compelling, moving read - that made me both laugh and cry - especially the moment in the story when the cinema in my head started playing Queen, Who Wants To Live Forever.

Great for fans of Charlie & Me, The Ethan I Could Have Been and Fishboy. And, if you haven't read Ross Welford's other books, they are well worth it too.

400 pages / Reviewed by Nicola Cleveland, school librarian.
Suggested Reading Age 9+
Other titles