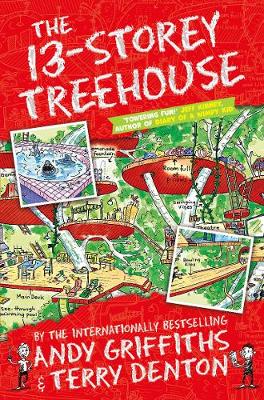 By Author / Illustrator
Andy Griffiths, Terry Denton
Genre
Adventure
Age range(s)
7+
Publisher
Pan Macmillan
ISBN
9781447279785
Format
Paperback / softback
Published
29-01-2015
Synopsis
The 13-Storey Treehouse is the first book in Andy Griffiths and Terry Denton's wacky treehouse adventures, where the laugh-out-loud story is told through a combination of text and fantastic cartoon-style illustrations.

Andy and Terry live in the WORLD'S BEST treehouse! It's got a giant catapult, a secret underground laboratory, a tank of man-eating sharks and a marshmallow machine that follows you around and shoots marshmallows into your mouth whenever you're hungry! Just watch out for the sea monkeys, and the monkeys pretending to be sea monkeys, and the giant mutant mermaid sea monster . . . Oh, and, whatever you do, don't get trapped in a burp-gas-filled bubble . . . !

Well, what are you waiting for? Come on up!
Reviews
Kerra
Andy introduces us to his 13-storey treehouse which he shares with his best friend, Terry. Andy writes books for children and Terry illustrates them. The problem is they are much too busy enjoying their amazing treehouse, with its games room, see-through swimming pool, bowling alley, lemonade fountain and automated marshmallow squirter, to remember to write books. When their publisher, Mr Big Nose, calls them up to demand their next book (which was due last Friday) they agree that they'll have it finished and on his desk the following day. Unfortunately, first they are distracted by the TV and then a series of adventures involving, sea monkeys, sea monsters, monkeys, a giant gorilla and a 'catnary'. They end up writing about their hilarious day and their neighbour helps them deliver the book on time, with Silky and friends flying to the rescue! A very funny book with crazy goings-on. It's full of fantastic cartoon illustrations and pages of nothing at all (when characters black out or when they're showing their empty drawing book). You might recognise some of their other book titles from page 18 and the illustration of a pile of books the've already written: The Just- series (Just Annoying, Just Crazy), The Big Fat Cow goes Kapow, The Flat Cat or perhaps Robot Riot. I would recommend it for advanced readers as a chill out, fun read (I finished it in an hour!) and highly recommend it as the perfect book to get reluctant readers going, especially boys. I thought it was extremely enjoyable with laugh out loud moments, fast paced fun and action packed adventures! Looking forward to the 26-, 39-, 52- and 65-Storey follow-up Treehouse books! 256 pages / Ages 7+ / Reviewed by Kerra Dagley, librarian.
Suggested Reading Age 7+
Other titles