The Accidental Life of Jessie Jefferson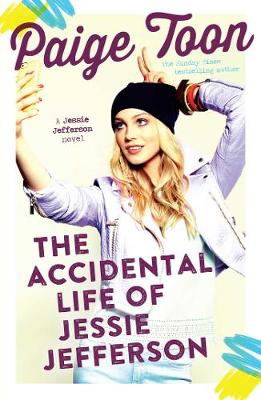 By Author / Illustrator
Paige Toon
Genre
Friends and family
Publisher
Simon & Schuster Ltd
ISBN
9781471145827
Format
Paperback / softback
Published
27-08-2015
Synopsis
Meet Jessie, small-town girl turned wild child . . .
Jessie has never known her real dad, and when her mum dies she thinks any hope of finding him is gone. As she goes goes off the rails, her stepdad announces that her father is Johnny Jefferson - legendary rockstar and former hell-raiser.
Still dealing with her loss, and now the daughter of a superstar, Jessie is sucked into the LA lifestyle - paparazzi, parties and hot guitar-wielding boys included.
But is Johnny up to the job? And, more importantly, is Jessie?
Reviews
Stef
Jessie Jefferson is a typical teenager until she loses her mum in sudden and tragic circumstances. Wracked with pain and feelings of guilt she takes it out on the people closest to her and rebels. She ditches her best friend and hangs out with the wrong crowd - they don't ask questions or offer sympathy. She has no idea who her real father is as her mum kept it a secret all of her life. When her step dad Stuart reveals that he is the famous rock star Johnny Jefferson she wants to meet him and get answers. Johnny invites Jessie to LA for a week to get to know the family and the awkwardness as both Jessie and Johnny's family tried to adjust to their new situation builds tension and keeps you reading as you hope for a happy ending. Jessie is soon sucked into the LA lifestyle of parties and hot boy bands but when the paparazzi show up it is clear life will never be the same again! I liked that the book would be suitable reading to explore grief and emotions while at the same time is a good escapist story. There is a small amount of swearing so I would recommend for older teens.
Suggested Reading Age 14+
Jane
Maybe every teenage girl's fantasy...to be suddenly catapulted into the lives of the rich and famous. Jessie is a fairly typical teenager, coping with the sudden and traumatic death of her mother and lashing out at those closest to her as a way of coping with the pain. The mystery about who her birth father is gnaws away at her until her step-father reveals his identity. How Jessie copes with this knowledge and the very different lifestyle of her new family is the subject of this book. Paige Toon writes simply and directly. This is not a challenging read and will be quickly read by those who are engrossed by the characters. A real page turner and pure escapism. 336 pages / Ages 12+ / Reviewed by Jane Welby.
Suggested Reading Age 11+
Other titles