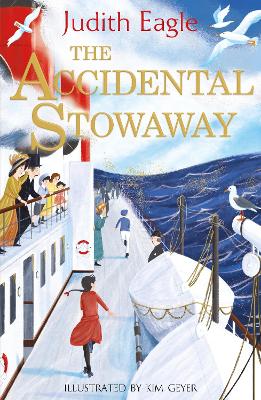 By Author / Illustrator
Judith Eagle, illus Kim Geyer
Genre
Mystery & Detective
Age range(s)
9+
Publisher
Faber & Faber
ISBN
9780571363124
Format
Paperback / softback
Published
04-08-2022
Synopsis
Liverpool, 1910.  When Patch runs up the gangway of steamship, RMS Glorious, she isn't planning to hang around. But if she leaves her hiding place the constable might catch her: sitting tight is worth the risk. Too late, she realises the ship is setting sail! Patch has become an accidental stowaway.  Luckily, Patch's unconventional past has made her pretty fearless when it comes to fending for herself, and besides there are friends in high and low places to be made onboard.   But hiding away becomes less and less easy: her new friends urgently need her help and there's a mystery that needs solving, all before they reach New York . ..  With gorgeous chapter head illustrations by Kim Geyer.
Praise for Judith Eagle: 'FABULOUS!' Emma Carroll. 'Superb storytelling' The Reader Teacher. 'If you liked Katherine Rundell, you'll love this' Lisa Thompson.
Find out more in this Author Video and Q&A
Reviews
Lisa
When on the run and seeking a hiding place, Patch runs up the gangway of RMS Glorious and seeks shelter; it is only when it is too late that Patch realises the ship has set sail and she has become an accidental stowaway. Whilst onboard, Patch makes friends from all different backgrounds who need her help to solve a mystery before the ship docks in New York.
The Accidental Stowaway is a great read for older, junior aged children. The characters are engaging and the setting may be a new world for many school-aged children to explore and learn about. It is a fast moving story which is why it is suitable for older junior aged children or could be a great read-aloud by parents to less confident children. I am really enjoying the increasing range of well written children's literature with strong female leads.
288 pages / Reviewed by Lisa Watkins, teacher
Suggested Reading Age 9+
Kelly
The Accidental Stowaway is a gripping story about an orphan, known as Patch, likened to a parcel that has been passed from pillar to post until it is finally discarded. The story is told from the narrative of Patch, a fiery, strong-willed female protagonist on the hunt for a place to call home. Accidentally finding herself onboard a cruise ship headed for New York, Patch embarks on an adventure filled with dark secrets, hope and the perils of being caught out.
The Accidental Stowaway delves into themes of: friendship, loss, hope and courage. I really loved how Patch's character evolved and softened throughout the story. This is a great story for feisty young females, who wish to make their mark on the world. True escapism, filled with the trials of friendships, secrets and adventure.
288 pages / Reviewed by Kelly Buxton, teacher
Suggested Reading Age 9+
Other titles