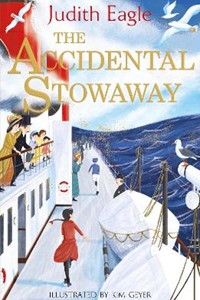 About Author
Judith Eagle is the author of The Secret Starling and The Pear Affair. Her latest book, The Accidental Stowaway, is a mystery adventure set at the turn of the 20th century.  Her career has so far included stints as a stylist, fashion editor and features writer. She currently works in two secondary schools as a librarian and library assistant, alongside her writing career.
Interview
The Accidental Stowaway  (Faber Children's Books)
August 2022
In this exciting adventure set on board a ship, Patch is an accidental stowaway with an eye for trouble; she discovers a mystery on the ship but only has a few days to solve it or she and her friends will be in desperate danger. 
Judith Eagle tells us how stories of real stowaways helped inspire the story, what she discovered about life on board ships of the time, and why she prefers to write stories set in the past. Judith also reads from a short section of the story in this video.
Download a chapter from The Accidental Stowaway
Q&A with Judith Eagle
1.    What brought you into writing for children, and what kinds of stories do you most enjoy writing?
Ever since my Year 6 teacher Mr Marks asked if I would dedicate my first book to him, I had a secret dream that one day I might become a children's author. It took a long time and an awful lot of other jobs along the way, but eventually it did happen! I write the sort of books I loved to read myself when I was young - mystery adventures full of twists and turns and unexpected happenings. I want a gasp-out-loud moment and an ending that fulfils everyone's dreams.

2.    What happens in your new book, The Accidental Stowaway?
The story is about a girl called Patch, (nicknamed Crosspatch at birth) whose father has died, and whose mother has run away. Just like a parcel, Patch is passed from one relative to another, but none of them cares about her and nobody wants her. When Patch finds herself on a steamship that is about to set sail, she has a split second decision to make. Should she stay or should she go? She decides to stay, and becomes an accidental stowaway! BUT Patch has a stolen ring in her possession that might hold the key to her past. AND she soon finds out that on the ship, nothing is as it seems, and people are NOT who they say they are. Before long, Patch finds herself at the centre of a swirling mystery; a mystery that must be solved with new friends Lilian, Turo and a dog called Sid, before the ship sails into New York.

3.    What inspired the idea for The Accidental Stowaway?
I visited an exhibition at the V&A in London about the golden age of the ocean liner. There were all sorts of things to look at - including a very fancy pink menu for dogs with the fanciest French food ever on it. Imagine going to a restaurant which is so posh that even the dogs get to choose what they'd like to eat!
Then I went to the Liverpool Maritime Museum. I discovered that in Edwardian times, there was a real craze for stowaways. Their stories were always being published in newspapers, and it was almost a competition to see who could be the best, bravest most daredevil stowaway of all.

4.    Why do you like to set your stories in the past?
One simple reason: no technology! My characters have to do their sleuthing the old-fashioned way, using just their wits and their imagination. But also, I love researching what life was like in the past. History is just bursting with inspiration and ideas and stories.

5.    This adventure is set on a ship - how did you go about researching what you would need to know for the story? 
RMS Glorious is based on a real ship called the RMS Mauretania. She was built in 1907 and she was the fastest most luxurious steamship in the world. For my research, I looked at old photographs and paintings and studied the Mauretania deck plan in great detail. It really helped me picture the layout of the Glorious. In the book, the illustrator Kim Geyer has done a drawing of the deck plan, complete with a key, so readers can see exactly where the action is taking place.

6.    Can you tell us a little about Patch, the main character, and her friends?
At the beginning of the book, Patch is unhappy and cross because she has not experienced much love or care in her life. Throughout her childhood she has been moved about. Now, if she stays in one place for too long, her feet begin to itch. She likes change.
Turo works on the RMS Glorious, washing the decks and cleaning the crews quarters. Just like Patch he loves to roller skate, but most of all, he loves being at sea. Lilian is clever and brave and suffers from terrible sea sickness. She is a rich girl, travelling alone under the care of a stewardess. But Lilian has a secret. And with that secret comes terrible danger, for all three children.

7.    Patch refuses to let being a girl stand in the way of doing what she wants - why did you want to make that such a focus of the story?
Life for girls changed rapidly in Edwardian times. Attending school and having a career became more attainable. But nevertheless, girls and women were still expected to behave in a particular way. I was inspired by the autobiographical stories of Noel Streatfeild, who was seen as rebellious and difficult; and E Nesbit, who as a child was criticised for her hands, her hair and her arithmetic. (Both grew up to become famous authors). I wanted Patch to not be constrained by the ideals of the time; I wanted her to challenge them.

8.    Who are your favourite supporting characters?
Lilian and Babette. Both are extremely brave and resourceful despite having their own struggles. I also have an extremely soft spot for June's dog, Sid.

9.    Do you enjoy creating your villains?
I love creating villains! My only problem is that I have a tendency to go full pantomime, so I have to try and reign that in a bit. My editor always tells me that however bad they are they have to be believable - so I try and imagine a backstory for them.

10.    Why did you want to make this a mystery story? What for you are the key ingredients of a great mystery?
I'm not sure about key ingredients, I don't really think about it in those terms. I know that I need suspense, and unexpected happenings and then a big finale at the end where everything comes together. I prefer to think of it as a very sticky web that needs untangling.

11.    How hard was it to bring all the threads together in The Accidental Stowaway?
It's always so hard, it makes my brain hurt! It takes a lot of thinking time and a lot of scribbling down key points on postcards and pinning them in different orders on a noticeboard. Just when you think it's never going to happen, it does. Hurrah!

12.    Who are your favourite mystery / adventure writers for children? Are there any books you've read recently that you'd like to recommend?
I love all AM Howell's books. She writes fantastic historical mysteries with wonderful period detail. A book I adored recently was Emma Carroll's Escape to the River Sea which was just as good as its inspiration, Eva Ibbotson's Journey to the River Sea. For the perfect adventure story, I could read The Wolves of Willoughby Chase, or Black Hearts of Battersea by Joan Aiken again and again.

13. What kinds of things do you enjoy doing when you're not at your desk?
The thing I do most when I'm not at my desk is read. I love reading! I also enjoy visiting museums and galleries and discovering parts of London I didn't know existed, even though I have lived here all my life. If I had more time, I would like to do more embroidery: I like to make pictures with fabric and thread. I have a thing for television programmes about people who turn their lives upside down and go off to live in the middle of nowhere. And I love getting on a train and going for a walk in the countryside, hopefully with a picnic, wandering through meadows, clambering across stiles or meandering along clifftops.
Author's Titles