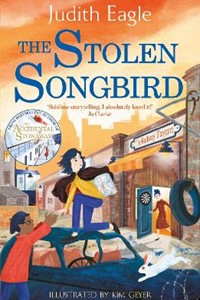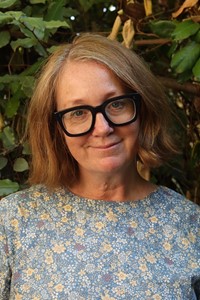 About Author
Judith Eagle introduces her latest historical fiction novel, The Stolen Songbird, about a famous picture and three children caught up in its theft. Judith is also the author of The Secret Starling, The Pear Affair and The Accidental Stowaway. 
Her career thus far has included stints as a stylist, fashion editor and features writer. When she's not writing, Judith works in a secondary school library.
Interview
The Stolen Songbird   (Faber Children's Books)
August 2023
In The Stolen Songbird, three children are accidentally caught up in the theft of a famous painting, and must find the thief and return it, before their own families are blamed. Set in 1950's London, The Stolen Songbird is an action-packed mystery that brings to life this period in history for young readers while exploring friendship, accepting difference and fighting for what is right. 
More about The Stolen Songbird                                           Read a Chapter from The Stolen Songbird
In this short video by author Judith Eagle, you can find out more about The Stolen Songbird, discover what inspired the story, and enjoy a short reading from the book!
Q&A with Judith Eagle
Judith introduces her new book, The Stolen Songbird, and tells ReadingZone about the three things she needs to start writing a book; what inspired her latest novel; and how she researched the setting for The Stolen Songbird - London in the 1950s.
1.   What was your journey into becoming an author, and what draws you to writing historical fiction? What can today's children learn from lives lived in the past?
I started to write fiction quite late in life.  I was a journalist for a long time, first as a fashion editor and then as a features writer.  My life changed course when I started working in a school library 13 years ago.  I wanted a change; I fell in love with children's books all over again; I took an MA in Children's Literature at Birkbeck University with Michael Rosen as my tutor. After that, I joined a writers group with some fellow students and wrote my first book, which was no good at all, but at least I proved to myself that I could write a whole book. The next attempt went much better. It was The Secret Starling, my debut, published in 2019.  I sometimes wonder if I should have started writing earlier, but actually I don't think I was ready. All the ideas must have been fermenting away though, under the radar, just waiting to come out!
What draws me to writing historical fiction? History is a treasure trove of amazing ideas and stories. Honestly, real life is much stranger and more interesting than fiction. I also think historical fiction helps to bring actual history to life. It puts flesh on the bones. And it shows us that those universal things - like shelter, warmth, food, love, hope - are the same things that have preoccupied us down the ages.

2.   Where do you begin with your stories? What inspired the idea for The Stolen Songbird, and what happens in the book?
I usually start with three things: a character, a setting and an inciting incident. I spend an awfully long time on the first chapter, getting it just right, refining the tone, paying attention to voice. Once I've got that down, I continue to proceed very slowly. I am not a fast writer! And although I might have a vague idea of where I'm going and where I want to end up, mostly I work it out as I go along.
The Stolen Songbird was inspired by my memories of the old Hungerford Bridge which span the Thames between Embankment and Waterloo. I had an image in my head of a girl (Caro) who can climb, hanging upside down, and enjoying being so close to the thundering trains and the black swirling water of the river below. I wanted to write about old London, a time before I was born, but not very long before. I wanted to capture a London of bombsites which children turned into playgrounds, a place of freedom and adventure. I also wanted Caro to have a rabbit who went everywhere with her. And a knitting needle ladder, which I'd read about in the newspaper. A spy called George Blake escaped from prison using such a ladder in 1964, and I was determined to borrow that idea and use it in my book.
In the story, Caro is sent to stay with her Great Aunt Mary in Hampstead after her mum goes missing. When she gets there, she finds a painting in her suitcase which puts her in great danger. With her friends Horace and Albie, she takes on a notorious gang of art thieves called The Snakes, while also trying to get to the bottom of a family mystery. And it's a BIG mystery. So big, it split the whole family apart before she was born.

3.   As it's a mystery and clues have to be given, do you plot your books quite carefully? What makes for a great mystery story?
I never plot anything at the beginning. I just write, and things start to come clear. About half way through, I get out some postcards, and start writing scenes and things that have to happen, and then shuffle them around a bit and stick them on a pinboard. I do find plotting hard. It makes my brain hurt actually! As long as things keep moving forward though, I'm happy, and I do feel that if I keep writing things have a habit of working themselves out.
For me, the best mystery stories have elements in them that are so unexpected, they make the reader gasp out loud. I like a lot of twists and turns, and that is what I try to achieve in my books.

4.   Why did you set the book in 1959 and in London? How much research did you do into the book's setting, London in the late 1950's? 
I wanted to set the book during a time when children still played out in the street, and maybe had a bit more freedom to roam than they do now. In the late 1950's, a children's activist called Marjory Allen went to Denmark and was so inspired by the 'Junk Playgrounds' she saw, she came back to the UK and created lots of Adventure Playgrounds here. They were often located on bombsites, and built with the help of local children, out of tyres, and old bricks and pieces of wood and old furniture. They were places for children to be free, to dream and imagine, and they inspired the Rubbles, which is where Caro and Horace hang out, and is central to The Stolen Songbird.
For my research, I looked at lots of old photographs, especially those by Roger Mayne, who took lots of pictures of street life in 1950's London. One photo inspired the Bully Boys, and another one inspired the character of Horace.
I didn't know that the Royal Festival Hall was built next door to a Shot Tower, and the two stood side by side for several years until the Shot Tower was pulled down. I love that idea of something so striking and modern, next to something so old and so full of history. I decided I would use the Shot Tower for a scene of great peril. I also didn't know that the famous ballerina Margot Fonteyn really had been involved in an attempted coup in Panama, and it was all hushed up until years later. And I didn't know that you could make an actual ladder out of knitting needles and rope and use it to successfully escape prison as demonstrated by George Blake. As I said earlier, real life is much stranger than fiction!

5.   Which parts of the story are based in reality, such as the painter Cornelis van Pieter, the gang thefts, or other people you mention?
Cornelis van Pieter is entirely made up; but Margot Fonteyn's story was real. The gang thefts were made up too, but I was influenced by John Bunton's theft of Goya's portrait of the Duke of Wellington from the National Gallery in 1961. It later transpired that Bunton carried out the heist on his father's behalf - a retired Newcastle bus driver - to draw attention to his campaign against pensioners having to pay the BBC licence fee! But it was reading about the way Bunton broke into the National Gallery that interested me, and the fact that - at that time - it was do-able, that informed Caro's attempt: standing on a parking meter to climb over the gallery wall.

6.   Is it important for you that, although The Stolen Songbird is set in the past, you still reflect children's real and diverse lives?
Although my stories are quite old fashioned in feel, it's very important to me that they have a modern sensibility. I want readers to feel involved in my stories, not shut out.

7.   Can you tell us a little about the children at the heart of the story: Caro, Horace and Albie - and how the 'team' developed? What would you like today's children to take from their adventures?
Caro and Horace have been friends since they were very small. Their bond is strong because they are both perceived as 'different' by their peers - Caro because she (unconventionally for the time) has two mothers; and Horace because not only is he part of the Windrush Generation, but also because his interest in fashion design (despite the fact that many of the leading fashion designers at the time were male) would have set him apart from other boys his age.
Both Horace and Caro take Albie under their wing. Albie has experienced great sadness, but with kindness and encouragement from his new friends, he starts to heal. I think the main thing I would like today's children to take from the trio's adventures is to be kind to one another. Listen to each other. And accept people's differences.

8.   You have mentioned that you live in London. What is your own favourite walk through the city, and your favourite places to visit?
The thing that gives me such pleasure about London is that after years and years of living here, I am still discovering new places to walk and explore. I like to follow the River Thames, from London Bridge towards Greenwich, where the old passages and warehouses contain many echoes of London past. The narrow streets around Spitalfields are also intriguing. And I like to walk along the canals following the Lee Navigation, Limehouse Basin, Hertford Union, Regents Canal, and the Paddington arm of the Grand Union.

9.   Where do you prefer to write, and what are you writing currently?
If I'm at home, I tend to write in my bedroom. I like to be high up, and able to see the tops of the trees from my window. I also get lots and lots done if I go to the Reading Rooms in the British Library. No distractions, a nice big desk and comfortable chair, and all around me other people beavering away at their projects.
I am currently editing my next book which will be out in the Summer of 2024. It is called The Great Theatre Rescue. It is set in 1933 and is the story of a tap dancer called Charley, a theatre in dire straits, and a foundling who might not be who everyone thinks he is….

10.   What does a favourite not-writing day look like to you?
The thing I love to do most when not writing is read! A favourite day would be one where nothing is planned, except to potter and read, maybe cook a little, and perhaps even get round to sewing a bit more of the patchwork quilt that hasn't been touched for months…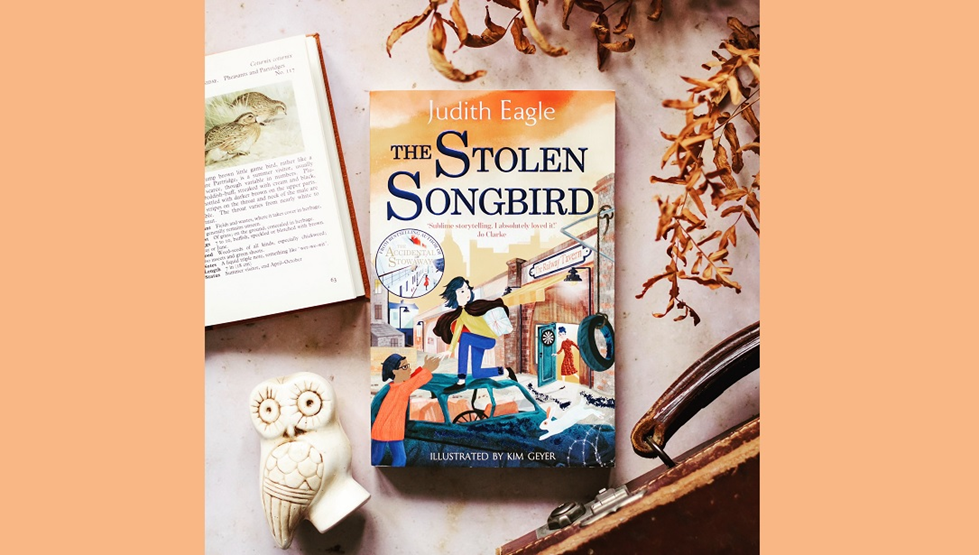 More from Judith Eagle
Enjoyed The Stolen Songbird?  Find out about Judith Eagle's The Accidental Stowaway (Faber Children's Books).  In this exciting adventure set on board a ship, Patch is an accidental stowaway with an eye for trouble; she discovers a mystery on the ship but only has a few days to solve it or she and her friends will be in desperate danger. Judith introduces the book and also gives a short reading in this video.
Download a chapter from The Accidental Stowaway
Author's Titles