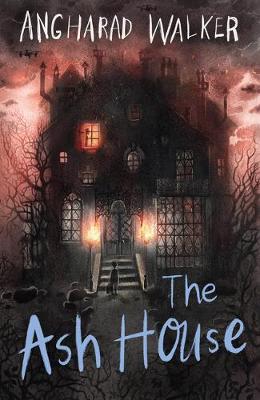 By Author / Illustrator
Angharad Walker
Genre
Friends and family
Age range(s)
11+
Publisher
Chicken House Ltd
ISBN
9781912626977
Format
Paperback / softback
Published
02-09-2021
Synopsis
Miss Peregrine's Home for Peculiar Children meets Lord of the Flies in the exciting debut from Angharad Walker.
A new boy arrives at the Ash House. He can't remember his name - or why he's been sent there. Given the name Sol, and troubled by a mystery pain that no medicine can cure, he joins the gang of children living in the shadows of the secretive house. Soon, however, there's more for him to face: the darkness that descends with the arrival of the Doctor...
A timeless, multi-layered debut for ages 10+; perfect for fans of Neil Gaiman, Holly Black, and Ransom Riggs's Miss Peregrine's Home for Peculiar Children. Truly unique and original storytelling, with touches of magical realism and dystopia. Features stunning artwork by Olia Muza.
Q&A plus Video with Angharad Walker
Reviews
Julie
A new boy arrives at the Ash House. He has no idea of his name or where he has come from. He is confused and in pain. He is given the name Solitude by the children in the house - Sol for short. He soon discovers that all of the children in the house are named after virtues and are all expected to live up to these. They are called 'nicenesses' and they must all abide by these rules.
However, all of the children in the house seemed to have been abandoned by their Headmaster. He has mysteriously disappeared, and the children cannot understand why he has left them all alone to fend for themselves. As they try to maintain the day to day running of the house, and try to live by the headmaster's rules, their lives are brutally and cruelly interrupted by the arrival of the doctor. What ensues is a dark, brutal and mysterious tale that leaves the reader wanting more.
The Ash House, Walker's debut novel, is filled with a brooding sense of foreboding and is promoted as Miss Peregrine's Home for Peculiar Children meets Lord of the Flies. I did find the start of the book intriguing, but it also felt a bit confusing and some younger readers may struggle to stick with the story as the plot thickens. However, it is worth it. Filled with magical realism, The Ash House is unlike many books I have read recently. Some of the scenes are harrowing and frightening and this feeling is made more intense because of the absence of adults in the novel. It is about the children and how they must survive.
I did find it bleak and harrowing in some parts and the reader is left never quite sure what is going to happen next. The book is also filled with some great plot twists and turns. As a reader, the plot is completely unpredictable and we are never quite sure what is going to happen next. Overall a great read, especially for those tween horror fans. I would recommend this book for readers aged 11+.
368 Pages / Reviewed by Julie Broadbent, school librarian
Suggested Reading Age 11+
Jacqueline
There is a new boy at Ash House. He cannot remember his name, so he is given one, Solitude or Sol for short. He knows he is there because Ash House might cure him, but when he arrives, he discovers there are no adults and the children are looking after themselves. The children are ruled by the 'Nicenesses', virtues designed to help them. Even their names are these virtues, names like Freedom, Concord, Mercy and Liberty.  Sol is the only new child and at first, he is not welcome, but then a dark character arrives and maybe it is only Sol who can save them all.
The Ash House is an extraordinary debut and original story. It lingers in the mind long after it is finished and unusually, does not attempt to answer every single question. Sometimes this can be frustrating, but in this instance there is something rather wonderful about letting the imagination tie up the lose ends.
It is creepy and terrifying in places and does not fit easily into a genre- is it fantasy? Horror? Adventure? Friendship? All of the above and more. The cover and inside illustrations by Olia Muza perfectly match the story. I found myself drawn back to the illustrations of the children on the inside covers once I had finished reading, to see how they fitted with my pictures of them now I 'knew' them.
This appears to be a 'Marmite' book. People have either loved it or hated it. It should definitely come with a warning as it is very unsettling, even for Year 6. It is not the sort of book I normally enjoy, containing violence and downright scary scenes, but there was something about it that just made it a great read and one I could not put down.
368 pages / Reviewed by Jacqueline Harris, teacher
Suggested Reading Age 11+
Louisa
A new boy arrives at Ash House, thinking he's going to be cured of his agonising back pains. Soon he can't even remember his name and he's given a new one, Solitude, Sol for short. Then he battles to find his place in a strange community of children all called after 'Nicenesses' and apparently abandoned by the adult in charge. Dom (short for Freedom) becomes his friend and does his best to protect Sol from the web of secrets, jealousies and resentments that fester in the absence of the Headmaster. But so much is left unsaid and there are so many mysteries that Sol still struggles to understand his new life. When the Doctor arrives, matters take a nightmarish turn and the fragile friendship between Dom and Sol is all that stands between all of them and the darkness.
There are fantastical elements in The Ash House, but this is not a regular fantasy story of the fight between good and evil. All through the book it's genuinely hard to judge what's true and what isn't. Does the Ash House really exist? Have the children been indoctrinated? Are there genuinely supernatural forces at work? How much is actually happening and how much is happening in their imaginations? In the words of the author, "the 'truth' in this story is simply the parts that really matter: friendship, courage and those intrepid steps towards freedom".
That would be a great starting point for a discussion with children. Meanwhile, the effect of the reader's uncertainty is an increasingly unsettling story. It's a book for older children who like their stories creepy, a horror story without any graphic violence but a pervasive atmosphere of menace.
368 pages / Reviewed by Louisa Farrow, teacher
Suggested Reading Age 11+
Other titles