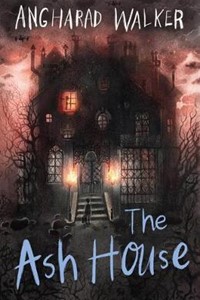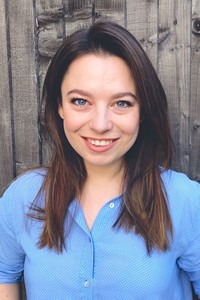 About Author
Angharad Walker's debut children's books, The Ash House, explores a house made of ash and smoke that has hidden secrets. She grew up on military bases in the UK, Germany and Cyprus, where stories were often being told about far-flung places, past conflicts, and friends and family. She always knew she wanted to be a writer and studied English Literature & Creative Writing at the University of Warwick and the University of California Irvine.  Her fiction has been published in Structo and A Million Ways, and her poetry has made it into Agenda broadsheets and Ink Sweat & Tears. 
Angharad lives in South London.  When she's not writing, she works as a communications consultant for charities and not-for-profits. Follow her @angharadwalker on twitter and Instagram.
Read a chapter from The Ash House
Interview
The Ash House (Chicken House Books)
September 2021
Angharad Walker's debut children's books, The Ash House, explores a house made of ash and smoke that has hidden secrets. It is an eerie, layered story about family, friendship and courage. We asked Angharad to tell us more about The Ash House, and in this video she also reads from the book. 
Q&A with Angharad Walker
1. What is your background in writing and what has brought you into writing for children? 
I've been writing stories for as long as I've been able to string words together. When I was about 10, an author came to my school to give a talk and I realised that it was possible to turn writing stories into a job. The idea of getting to write all day seemed too good to be true - I haven't wanted to do anything else since! I kept writing all through school and university. My first job was as a copywriter. And now I'm an author. I often joke that I'm only good at one thing, but that one thing seems to have got me pretty far.
I love writing young characters. Children's thoughts and feelings and decisions can sometimes be trivialised by adults, but I think they're incredibly important. The books I loved as a child as still incredibly important to me. I think that makes me want to create something special for the next generation of readers and writers. I like the idea of passing that passion on.

2. What tips can you give children who want to write their own books one day?
Everyone will tell you to read lots, and they're absolutely right. But don't forget to read widely. Pick up books you wouldn't normally look at. Ask friends and family and teachers for recommendations. And it's not just books. Check out comics, graphic novels, TV shows, movies, plays, podcasts - brilliant storytelling is all around us. Soak it up!

3. Can you tell us a little about your new book, The Ash House?
The Ash House is about a boy named Sol who is struggling with a mysterious illness. No one knows what's wrong with him or how to help him. So he's sent to the Ash House. But when he gets there, he finds a house made of smoke and ash, where glowing-eyed hounds guard the grounds and drones hover in the air… and there's a group of children who haven't seen an adult in years. Sol uncovers the house's sinister secrets and finds real friendship and courage there.

4. What sparked the idea for The Ash House?
You know, it's the most frustrating thing, because I don't know. It was nearly ten years ago when the image of the house just popped into my mind. Perhaps I had a nightmare? Perhaps I was looking out of the window in class and a daydream strayed… I only know one day it was there, and it still hasn't left me.

5. How did the setting of the Ash House develop?
Slowly. I knew I wanted it to feel claustrophobic. And I knew it needed to feel like it wasn't quite part of our world, but not completely removed from it either. It's an in-between place. To me, the Ash House is just as much a feeling as it is a place.

6. Ash House is by turns comforting and threatening for the children who live there. How did you develop the sense of menace in the story?
Working on this book taught me that it's important to tap into your own fears as a writer. What are you afraid of and why? Really look it in the eye. I think if the sense of menace comes from a genuine place, your readers will feel it, too.

7. When children come to stay at Ash House they are given a new name, representing a 'Niceness' or virtue. Why did you decide to do this?
I've always liked old fashioned names like Patience and Prudence. I think they're lovely. But I also wonder what it's like to have a virtue as a name. Do you feel pressure to inhabit that virtue? What happens when you feel you fall short of it? Naming the children in this way let me give them names I like while creating this set of rules they must live by all the time. It's quite a high pressure, anxious way of living.
I had a lot of fun with it too. I like that the character who is the unkindest to Sol when he arrives is called Concord, when he's really the opposite.

8. The Ash House can also read as an allegory - did you have any other allegorical novels in mind when you started to write The Ash House?
I definitely did. For children's books, stories like The Lord of the Flies by William Golding, A Monster Calls by Patrick Ness, and The Nest by Kenneth Oppel were big inspirations. For older readers, I got ideas from The Life of Pi by Yann Martel, and Shirley Jackson's novels, too.

9. There are a number of themes running through the story including the outsider, friendship and being the best person you can be. What would you like your readers to take from The Ash House?
How important it is to trust your voice and your own experience. So many of the walls we make for ourselves are in our minds. That's how the children in the Ash House live, until Sol shows them another way.

10. Where and when did you write The Ash House - and will there be a sequel? 
I first had the idea when I was still a student, but I think I started writing it in earnest in 2016. I was only 25. I'd written another book that hadn't found a publisher. I knew I wanted to write The Ash House next - it felt special. I wrote most on it on my laptop at a little desk in the corner of my living room.  I have no plans for a sequel just yet, but never say never.
I've nearly finished writing my second book, which will be out September 2022. It's a whole new world with new characters to meet. I'm beyond excited for readers to get their hands on it.

11. What are your favourite escapes from your desk?
Either the cinema or the great outdoors. I like walking, particularly in forests (which will come as no surprise for readers of The Ash House).

12. What are your top three contemporary books for children and young people?
So many great books to choose from, but here are some highlights that spring to mind:
The Nest by Kenneth Oppel. If you enjoy The Ash House, you'll love this. It's mysterious and sad and uplifting all at once.
Shadow and Bone by Leigh Bardugo. I got addicted to the Netflix series and now I'm working through the books. I love a good fantasy series, and this is a wonderful world to get lost in.
Lucy Strange's children's books are classics in the making. The Secret of Nightingale Wood is my favourite.
Author's Titles