The Bad Bunnies' Magic Show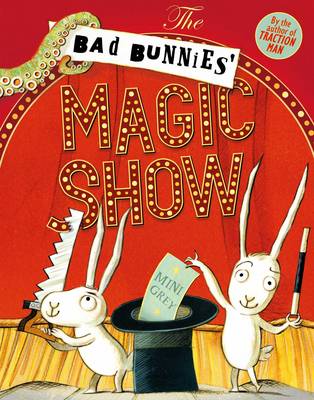 By Author / Illustrator
Mini Grey
Genre
Young fiction
Age range(s)
5+
Publisher
Simon & Schuster Ltd
ISBN
9781471157608
Format
Paperback / softback
Published
15-06-2017
Synopsis
When the great magician, Hypno, goes missing just before a show, his rabbits Abra and Cadabra step in to save the day.
But are they all that they seem? Or is there more to their sleight of paw than meets the eye?
An exciting new novelty book from British author and illustrator Mini Grey that will have children and parents laughing out loud.
Reviews
Marie
The Bad Bunnies Magic show is a highly amusing tale of two bunnies, Abra and Cadabra. In the tale we hear that how, due to 'unforeseen' circumstances, there needs to be a change to the scheduled Magic Show and Abra and Cadabra step in to take over the show. Both Bunnies then partake in daredevil and death-defying tricks to astound the audience, but the illustrations tell the truth of how the Great Hypno has been locked in a box while Abra and Cadabra steal the show. The story is really funny as each of the tricks are a bit of a disaster and eventually the real magic team step in to save the day. In the final line of the story, however, we discover that maybe the Bunnies haven't learnt their lesson... This book is a really fun and interactive story, with lots of lift the flap features to keep young readers interested and excited. The fantastic illustrations create lots of talking points with readers and I will enjoy reading it with my children at school and home alike. A great one to use when looking at consequences of behaviour. Picture book / Ages 4+ / Reviewed by Marie Berry, teacher.
Suggested Reading Age 5+
Other titles