The Bewitching of Aveline Jones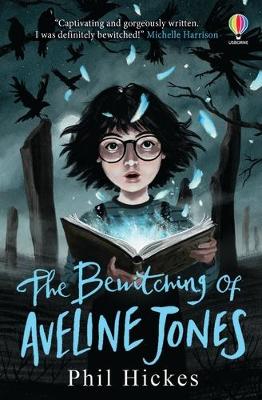 By Author / Illustrator
Phil Hickes, Keith Robinson
Genre
Supernatural
Age range(s)
9+
Publisher
Usborne Publishing Ltd
ISBN
9781474972154
Format
Paperback / softback
Published
19-10-2021
Synopsis
Turn on your torches and join Aveline Jones!  Aveline is thrilled when she discovers that the holiday cottage her mum has rented for the summer is beside a stone circle. Thousands of years old, the local villagers refer to the ancient structure as the Witch Stones, and Aveline cannot wait to learn more about them.  Then Aveline meets Hazel. Impossibly cool, mysterious yet friendly, Aveline soon falls under Hazel's spell. In fact, Hazel is quite unlike anyone Aveline has ever met before, but she can't work out why. Will Aveline discover the truth about Hazel, before it's too late?  Join the world of Aveline Jones, where mysteries are solved, spirits are laid to rest, and everybody gets to bed on time.
Reviews
Linda
I was absolutely bewitched by this story - Phil Hickes is genuine talent in the world of children's fiction. His ghost stories strike the perfect balance for any young horror fans: they are truly scary, whilst still maintaining readable and engaging storylines. I particularly like that he avoids the comedy horror genre, making his stories genuinely scary to read - which is hard to find in children's literature and something many young readers actively seek out.
The Bewitching of Aveline Jones is the second book in the series and retains all of the menace and mystery of its predecessor. When Aveline and her mother rent a holiday cottage, Aveline is thrilled to find a stone circle, otherwise known as The Witch Stones at the bottom of her garden. After making a new friend, Aveline finds herself once more caught up in some deadly and sinister events.
I thought The Bewitching of Aveline Jones was the perfect level of creepy, whilst maintaining an unpredictable and engaging narrative. This book is already in demand amongst my Year 5 readers - so much so that I've had to buy another copy for my classroom bookshelf!
256 pages / Reviewed by Linda Canning, teacher
Suggested Reading Age 9+
Jacqueline
Aveline Jones is on holiday with her mum in the village of Norton Wick. She is thrilled to discover her room overlooks a stone circle, known as The Witch Stones. With her usual enthusiasm for the slightly creepy and supernatural, Aveline cannot wait to find out more about the mysterious stones.
Then, Aveline meets a girl from the village, Hazel, who is charming and sophisticated and wants to be Aveline's friend. Aveline is flattered but slightly overwhelmed by the speed of the friendship. When her old friend Harold arrives to stay with them, it seems that threesomes do not work. Aveline has to work out Hazel's motives and decide who she can trust, before it is too late.
The Bewitching of Aveline Jones is the second book about Aveline Jones, though it can be read as a stand-alone story. Aveline is a curious child, always wanting to read up about interesting things and find out more. Sometimes this is extremely helpful, and Harold having access to a bookshop is also a big help.
The book is less 'horror' than the first book and whilst retaining the element of creepiness, it is not such a scary read as the first either.  This is the perfect read for the child who is not scared by things that go bump in the night, but enjoys the thrill and the shiver as you read something just a bit scary, which you know will be all right in the end.
256 pages / Reviewed by Jacqueline Harris, teacher
Suggested Reading Age 9+
Other titles