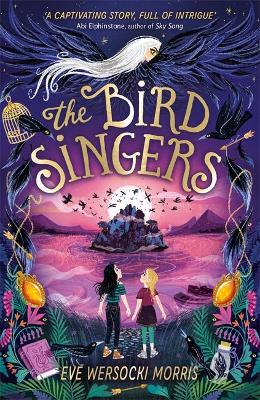 By Author / Illustrator
Eve Wersocki Morris
Genre
Magical Realism
Age range(s)
9+
Publisher
Hachette Children's Group
ISBN
9781444963328
Format
Paperback / softback
Published
03-02-2022
Synopsis
'The whistling had started on their first night. At first, Layah thought it was bird song - a high thin sound which became a melody, rising and falling. And each night, it returned.'

Strange things have been happening to Layah and her younger sister, Izzie, ever since their mother dragged them to a rain-soaked cottage miles from anywhere in the Lake District: there is a peculiar whistling at night, a handful of unusual feathers appear on their doorstep and there are murmurings of a shadowed woman in the forest. And their mother is behaving very oddly. Layah is mourning the loss of her dear grandmother in Poland - and can almost hear her Babcia's voice telling her the old myths and fairy tales from that magical place.  And as the holiday takes on a dark twist, Layah begins to wonder if the myths might just be real.

A thrilling debut from remarkable new talent, Eve Wersocki Morris. 
Watch a video by Eve Wersocki Morris introducing The Bird Singers and talking about the myths that inspired it.
Reviews
Jennifer
The Bird Singers is a thrilling, intriguing and superbly sinister mystery - such a page turner!
Laylah and younger sister Izzie reluctantly have to join mum on a last minute 'holiday' to the Lake District. Dad doesn't come (he is too busy working away - again). The girls are already desperately missing the comfort of their grandmother Babcia and the Polish folklore tales and mysterious myths that she infused their lives and imagination with. Mum now seems distracted and distant and Laylah feels her family might be coming apart at the seams.
The bare bones of the story may seem like the very real day to day issues of fractured family life but from the very start of the book, the reader knows something magical is between the pages. The front cover itself (by Paolo Escobar) is stunningly vivid and rich in colours and images of dark feathers and golden arrows. The very first chapter concerns a haunting midnight whistling and a glimpse of figure with a "hungry, twisted smile".  The author leads the reader immediately into an adventure with unknown and sinister forces within it.
There is layer upon layer of suspicious, un-nerving events that unfold as the girls explore Lowesdale Village with its sleepy Boating Centre and quietly, old fashioned  tea rooms.  The strange whistling and sighting of a yellow eyed woman (that has Laylah's mum struggling to conceal her fearful response), stories of the Lowesdale Stranger (who feasts on sheep and children) and tales of feathered shapeshifters all create a brooding atmosphere where the reader is always expecting the unexpected.
Laylah and Izzy don't know who to trust as they seek to discover why their mum seems so edgy and secretive and Laylah feels uncertain and cautious about everyone and everything as she encounters dead birds, a haunted looking school and some very curious characters in the village.
The author uses a clever style by weaving two narrative styles together. Alongside the main adventure story, there are the chapters of the 'Other'. Grey-looking toned pages (like foreboding shadows) with italic font and a vocabulary shrouded in darkness and fear. Here lies the story that contains the origins of this present day threat. Each carefully crafted chapter is cunningly placed to create twists and turns in plot and place questions in the reader's mind so we search for new clues with our nerves jangling.
I absolutely loved this book - the dark and twisted scenes and battles were taut with tension and furiously paced. The family's bonds and determination were positive emotions against the evil greed of a vengeful figure. Fans of The Wild Magic Trilogy by Celine Keirnan would especially delight in this, I think. A captivating debut.
304 pages / Reviewed by Jennifer Caddick, teacher
Suggested Reading Age 9+
Other titles