The Book of Not Entirely Useful Advice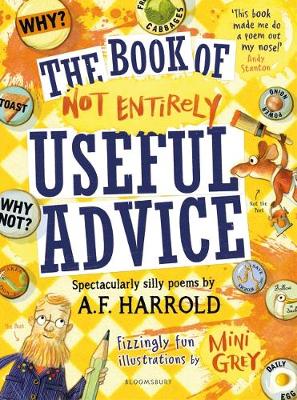 By Author / Illustrator
A.F. Harrold, Mini Grey
Genre
Poetry
Age range(s)
7+
Publisher
Bloomsbury Publishing PLC
ISBN
9781526618016
Format
Hardback
Published
03-09-2020
Synopsis
A riotous celebration of words and a modern take on cautionary tales - featuring advice on parrots, gravy, mathematics, castles (bouncy), spiders, vegetables (various), breakfast, cakes, and removing ducks from soup.

Advice comes in many shapes.
Poems come in many shapes.
And so, it follows, poems of advice come in many shapes too.
Sometimes they look you in the eye and say, 'Do this! Don't do that!'
Sometimes they sidle up beside you and whisper, 'Have you ever thought about . ?'

Not everything in this book is necessarily good advice, and not all of it is sensible advice. (But if you take the bad or un-sensible advice and don't follow it, then it may become useful advice in its own way.)

Filled with colour illustrations and packed with silly rhymes, witty wordplay and thought-provoking story poems, this collection will delight children of all ages.
Reviews
Alison
What a treat! This substantial anthology with its vivid yellow cover features 'Spectacularly silly poems' by the wonderful AF Harrold, illustrations by the equally wonderful Mini Grey and a dedication to Roger McGough and Brian Patten. What's not to like?

For some serious silliness you really don't need to look any further than The Book of Not Entirely Useful Advice. There are four sections of 'Advice mainly relating to...: food, ducks and dessert; animals, giants and the natural world; school life, onions and general knowledge type stuff; the human condition, dreams and miscellaneous other subjects that didn't fit elsewhere. You get the idea?!

The collection is prefaced with an hilarious 'Note for the Reader' reassuring us that even if you've read all the advice 'you still get eaten by a tiger in Bournemouth…. Then I will happily, without quibbling, refund you the entire price of this book'. More such notes pop up through the book including a DIY Advice-a-Tron. Don't ask. Just get the book!

The poems are gloriously and consistently silly, ably supported by Mini Grey's fabulous, full colour illustrations. We are warned about the 'Perils of Breakfast' (p.3). As if the poem wasn't emphatic enough ('Bears are dangerous. / Bears have big claws./ Bears are always hungry. / At breakfast time, doubly so./', Grey's illustration depicts a bear's paw emerging from the packet scattering corn flakes with her trademark startled animals watching aghast. Harrold himself is here; he makes many cameo appearances in the illustrations. If you want to know more about the secret life of cabbages (p.9) or the many uses of sausages when lost at sea (p.12), the answers are here.

Note that the advice about 'How to Avoid a Giant who has escaped from a nearby fairy tale' (p.56) is non-existent because 'In fact there's nothing you can do / to alter the odds. / Nothing, no, nothing at all.//'. There's some great narrative potential here as children could speculate about which fairy tale he's escaped from and what might happen next.

It's not all silly. There are lyrical, heart-warming moments as in 'Moon' (p.80) seen as a child leaves school: 'a chalk smudge / finger dab / of white on blue / You can see the sky through it / like / your mother's heart / through her frown.//'.

There's a warmth that suffuses this book. A colour palette of yellows and greens dominates adding to its sunny disposition. 'Roots' (p. 20) is about a 'good picnic / to which you need carry no food,... you palm up your hands / and drink / the sunshine'//. And that's what this book is: a warm dose of sunshine.

160 pages / Reviewed by Alison Kelly, consultant
Suggested Reading Age 7+
Sue
A wonderful collection of poems offering advice on a whole range of topics from food to dreams and everything in between, The Book of Not Entirely Useful Advice is A F Harrold at his best. Although described as 'spectacularly silly', there is much to recommend these poems as they are full of word play and imagery.

'The Exaggerator', for example, is about someone who used to exaggerate - constantly, endlessly. In contrast, 'Earth Song' is a poignant verse about the fate of the planet. Many of the poems speak directly to the reader, offering the advice spoken of in the collection's title. 'Wednesday's the High Point of the Week' and 'Say Something Nice' are just a couple of poems which would be great fun to enjoy with a class and use to inspire them to create their own.

The illustrations are integral to the poems with Mini adding little asides and capturing the essence of each verse with her pictures.

There are places in the book where the reader is encouraged to add their ideas or play games with words along the way. A wonderful collection for sharing and enjoying!

160 pages / Reviewed by Sue Wilsher, teacher
Suggested Reading Age 7+
Other titles