The Boy Who Grew Dragons (The Boy Who Grew Dragons 1)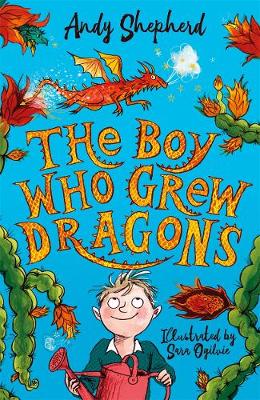 By Author / Illustrator
Andy Shepherd, illus Sara Ogilvie
Genre
Magical Realism
Age range(s)
7+
Publisher
Templar Publishing
ISBN
9781848126497
Format
Paperback / softback
Published
14-06-2018
Synopsis
When Tomas discovers a strange old tree at the bottom of his grandad's garden, he doesn't think much of it. But he takes the funny fruit from the tree back into the house - and gets the shock and delight of his life when a tiny dragon hatches! The tree is a dragonfruit tree, and Tomas has got his very own dragon, Flicker...  Tomas soon finds out that life with Flicker is great fun, but also very ... unpredictable. Yes, dragons are wonderful, but they also set fire to your toothbruth and leave your pants hanging from the TV aerial. Tomas has to learn how to look after Flicker - and quickly. And then something extraordinary happens - more dragonfruits appear on the tree. Tomas is officially growing dragons...  The first book in a sparky and utterly enchanting new series.
Reviews
Sam
The Boy who Grew Dragons by Andy Shepherd is a delightful story of family and friendship. I thoroughly enjoyed this book and chuckled from start to finish! Although I'm not usually a lover of 'toilet humour', the idea of dragon poo that explodes when it dries out did make me laugh!
The story focuses on a young boy called Tomas who, when younger, was seriously ill and spent many hours in the company of his Nana and Grandad while his parents were at work. Tomas and his Grandfather have a very close relationship and now, although fit and healthy - if a little smaller than some of his classmates, Tomas still enjoys spending time with his Grandad. One morning, Tomas is helping his Grandad in the garden when they discover a rather weird-looking plant. Tomas notices that one of the strange looking fruits growing on the plant seems to be glowing and just as he reaches out to touch it, it drops into his hand. Tomas takes the strange pineapple-y sprouting fruit home to try to find out what it might be and soon finds that he has found a Pitaya - a 'dragon fruit'. That night the dragon fruit begins to glow and grow, leading Tomas to think that perhaps this isn't a regular fruit after all... What happens next is exactly what every young potential dragon keeper would hope for and Tomas finds himself in sole charge of a rather delightful, iridescent dragon he calls Flicker.
The Boy who Grew Dragons tells its reader all about how Tomas tries to keep his newly 'hatched' friend a secret from everyone, including his young sister Lolli, away from the family's angry cat, Tomtom, while also dealing with the evermore rapidly appearing piles of combustable dragon poo!
I enjoyed this book so much I was actually quite reluctant to sit and write this review, particularly since I also have the follow-up book, The Boy who lived with Dragons, waiting to be read next to me! This will no doubt be a very popular read in any primary classroom, as a book read to a class of Year 2 children upwards, or as an individual, independent read for any Key Stage 2 child. This fab book is a certain page turner that will undoubtedly amuse any reader. Andy Shepherd skilfully manages to interweave family and school life scenarios ideal for discussion and inference in a primary classroom, while Sara Ogilvie's illustrations, dragon poo splats and singed page edges are great for motivating the less confident reader or child who maybe still lacks the stamina to follow an unillustrated text.
224 pages / Ages 6+ / Reviewed by Sam Phillips, teacher.
Suggested Reading Age 7+
Other titles