The Boy Who Lived with Dragons (The Boy Who Grew Dragons 2)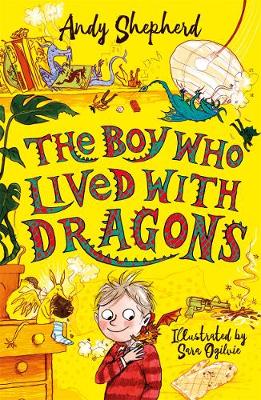 By Author / Illustrator
Andy Shepherd, illus Sara Ogilvie
Genre
Magical Realism
Age range(s)
7+
Publisher
Templar Publishing
ISBN
9781848126800
Format
Paperback / softback
Published
06-09-2018
Synopsis
The second book in a wonderfully funny and sparky series: THE BOY WHO GREW DRAGONS was shortlisted for the Waterstones Children's Book Prize'Irresistible ... a modern classic' GUARDIAN on The Boy Who Grew Dragons'A warm-hearted debut ... lovely, expressive, characterful' SUNDAY TIMES on The Boy Who Grew DragonsTomas has a secret - a big secret. He has his own tiny dragon, Flicker! A dragon which grew on a very special tree at the bottom of his grandad's garden. And not only that - his friends Ted, Kai and Kat have dragons too, all grown on the same dragonfruit tree...
Having your own dragon is magical - but Tomas is also about to find out what living with a dragon is REALLY like. When the fire-breathing kicks in and you get singed every five seconds, it's like having an unpredictable volcano in your pocket. Learning to train the dragons and keep them out of trouble at school and home will take all Tomas's creativity and patience ... What is more, the dragonfruit tree is starting to look droopy and unwell. Tomas and his friends have got to do all they can restore it to health and uncover its deepest mysteries, as well as trying to work out what big secret local bully Liam, 'King of Trouble', has got up his sleeve ... One thing is for sure, life is never dull when you have a dragon in your pocket.
Reviews
Sam
I throughly enjoyed Andy Shepherd's first book, The Boy Who Grew Dragons, and was keen to share it with some of my young friends, knowing they too would love to be a part of Tomas's adventures with his dragon, Flicker. So I could hardly wait to start the next book in the series, The Boy Who Lived With Dragons. Unsurprisingly, I wasn't disappointed.
The Boy Who Lived With Dragons is packed with just as much humour and chaos as the first book; living with a dragon is not easy and now that Tomas's friends also have their own small dragons to care for, keeping all four dragons a secret is proving virtually impossible, particularly with all the strange things that seem to be happening in the neighbourhood. Tomas is sure that the school bully, Liam, has something to do with what's going on, but finding out exactly what that is, is difficult without letting Liam know about the dragons.
Beautifully interwoven in this scorching tale of near misses, is confirmation of the special relationship Tomas has with his Grandfather. While he knows that he should be helping more and that he shouldn't keep lying to his Grandfather, Tomas is certain that, in this particular case, he might just not understand. It's the brilliant way that this special bond between Tomas and his Grandfather is depicted that would provide an excellent tool for teaching inference in a Primary classroom. Grandad's hard stares, sighs and wiggling eyebrows speak volumes and continually dig at Tomas's conscience.
Once again, a cracking read and I look forward to the next charcoaled instalment of the adventures of Tomas, Flicker and pals.
240 pages / Ages 6+ / Reviewed by Sam Phillips, teacher.
Suggested Reading Age 7+
Other titles