The Boy Who Sailed the World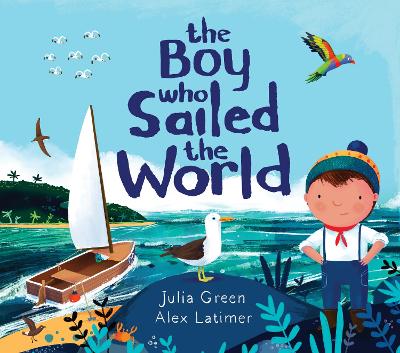 By Author / Illustrator
Julia Green, Alex Latimer
Genre
Personal Growth
Age range(s)
5+
Publisher
David Fickling Books
ISBN
9781788452335
Format
Paperback / softback
Published
05-05-2022
Synopsis
'Right from the start, the boy loved the sea! He ran along the sand, danced in and out of the waves, his heart full of longing and delight' The boy has always loved the sea. So he builds a boat and sails away on a voyage of adventure...The wonders of the world await you in this beautiful and inspiring book about following your dreams.
Reviews
Maria
From an early age, this little boy loved the sea. How he dreamed of having his own sea adventures and to sail the seven seas… After building a boat, he sails away but soon loses his way. With the help from a compass and the reflective path shining from the moon he's guided on to many adventures; some dangerous, magical and lonely. An unexpected noise is revealed to be a sudden storm breaking. With nothing to do but to put trust in his boat, the little boy clings on and hopes.  On and on he sails, longing to feel land beneath his feet. He discovers an island and anchors up. Here he makes new friends and enjoys his time on their island. However there's an echo calling him, a voice that he loves. He sails back reflecting on his journey and all the adventures he experienced along the way and concludes that the world is a BIG place with so much to see and explore.
The Boy Who Sailed the World is ideal to use to teach children about learning dispositions as it is full of examples of reflection, resilience, curiosity and resourcefulness. It would also make a great resource to use when teaching the problem stage of story writing as there are many problems and resolutions throughout the story. There are also plenty of opportunities to consider the little boy's feelings at different stages throughout the text.
The clear, detailed and appealing illustrations add to the main story and will aid children in using their imagination whilst comprehending the story. This book will fully engage children whether it's read as a high quality text or to aid teaching.
Picture Book / Reviewed by Maria, teacher
Suggested Reading Age 5+
Other titles