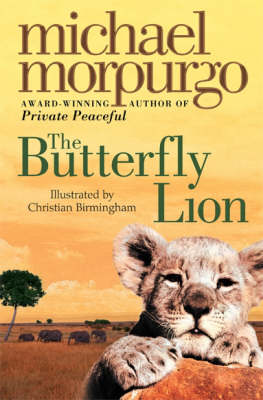 By Author / Illustrator
Michael Morpurgo, Christian Birmingham
Genre
Animals
Publisher
HarperCollins Publishers
ISBN
9780006751038
Format
Paperback / softback
Published
07-05-1996
Synopsis
ILLUSTRATED BY CHRISTIAN BIRMINGHAM.
A lyrical and moving tale of a young boy growing up in Africa, and his lifelong friendship with a white lion.
\"All my life I'll think of you, I promise I will. I won't ever forget you.\"
Bertie rescues an orphaned white lion cub from the African veld. They are inseparable until Bertie is sent to boarding school far away in England and the lion is sold to a circus. Bertie swears that one day they will see one another again, but it is the butterfly lion which ensures that their friendship will never be forgotten.
Reviews
Ruby

- Age 10
After Bertie discovers a rare breed of white lion, he raises it to be his very own. However, the South African plains are no place for a young boy, so he is sent to a very strict boarding school. Every day, the inseparable pair think about each over. Will Bertie ever see his faithful pal again? This heart-warming story ignites those with a passion for animals, but should be read by 7 years and over. It includes sad tragedies.
Suggested Reading Age 9+
vip

- Age 9
They are inseprable until Bertie is sent to boarding school.
Suggested Reading Age 9+
Other titles