The Caravan at the Edge of Doom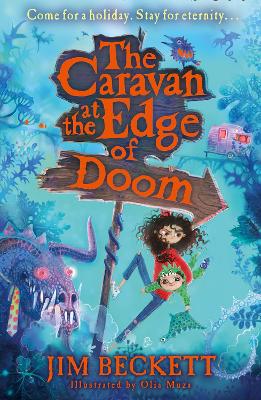 By Author / Illustrator
Jim Beckett, Olia Muza
Genre
Adventure
Age range(s)
9+
Publisher
HarperCollins Publishers
ISBN
9781405298285
Format
Paperback / softback
Published
27-05-2021
Synopsis
The perfect summer read for fans of Terry Pratchett, David Walliams and Roald Dahl!
When her grandparents explode in their caravan toilet late one night, twelve-year-old Harley discovers a surprising truth: their toilet is a gateway to the Land of the Dead, and they are its Guardians. Well, they were. But there's no time to mourn their passing. Because Harley's baby brother has accidentally gone with them to the Land of the Dead. And Harley only has 24 hours to rescue him before he's trapped there FOREVER!
This hilarious and heartbreaking debut features exploding grandparents, unexpected heroes and a truly EPIC adventure.
Reviews
Jacqueline
Harley is staying with her grandparents in their caravan when they all go into the toilet and explode. It turns out that the caravan is the portal to the land of the dead and her grandparents were the portal keepers, ushering the dead on to the next world. Unfortunately, one Grandparent accidentally takes Harley's little brother into the next world and Harley has to travel there herself to rescue him.
The Caravan at the Edge of Doom is a crazy adventure; the exploding grandparents are only the start. Harley is a determined and plucky heroine on a quest to save her brother and she is telling the story in the first person. She undertakes all sorts of tasks and meets some very strange creatures. The whole story is quite manic and funny, with nothing too scary happening and lots of laugh out loud moments.
The illustrations by Olia Muza are great at bringing the story alive and work perfectly with the text. The lively cover makes it clear exactly what sort of story this is going to be, topped with the slogan 'Come for a holiday. Stay for eternity...' This is suitable for Key Stage 2 children, older children will probably get more of the jokes, but the illustrations lighten the text for lower Key Stage 2 readers with stamina.
320 pages / Reviewed by Jacqueline Harris
Suggested Reading Age 9+
Donna
Harley did not expect her grandparents to explode in the caravan toilet, but explode they did. This unexpected occurrence left Harley in charge of her little brother Malcolm; as well as having to take on the role of Gatekeeper of The Beyond, overseeing the pathway between this world and the next, the tea maker of lost souls. She didn't feel quite ready to have this role thrust on her in such a way. She was even less prepared when her little brother accidentally crossed over into the next world, whilst playing hide and seek in his grandmother's shopping trolley.
That was all that Harley needed! Her parents had trusted her to look after him and she had allowed him to pass through the Portal of Doom! There was nothing else for it than for Harley to pass through herself and bring him back. Only it was never going to be that easy. Jim Beckett takes us on a rip-roaring adventure through the perils and tasks facing those who pass through the Portal of Doom and who do not wish for Eternal Damnation.
The Caravan at the Edge of Doom is a madcap adventure that sees us whizz through the manic adventures of Harley and her sidekick Oliver Poliver as she battles regrets and overcomes challenges before the time runs out. The question is, will she save her brother and get out in time? Curriculum links: Links to bereavement, responsibility, friendship, trust and belief.
320 pages / Reviewed by Donna Burkert
Suggested Reading Age 9+
Other titles