The Cauldron of Life: A Four Treasures Novel (Book 2)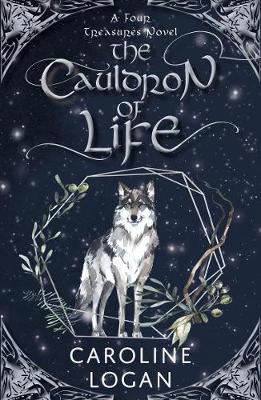 By Author / Illustrator
Caroline Logan
Genre
Myths & Legends
Age range(s)
14+
Publisher
Cranachan Publishing Limited
ISBN
9781911279525
Format
Paperback / softback
Published
08-10-2020
Synopsis
Join the journey; discover your destiny
Set against the epic backdrop of Scottish myths and legends, comes The Cauldron of Life, the second title in The Four Treasures series written by Caroline Logan.
In the Isles of Ossiana, Harris has been captured by the Faerie Queen and Ailsa must journey once again into the heart of Eilanmor to rescue him.
But Ailsa is struggling with her newfound magic and the revelations about her real identity. Is the Faerie Queen Ailsa's mother? Is everything she believed about her past a lie? Meanwhile, a war is brewing between much more powerful forces.
The lines between good and evil are blurring, and Ailsa must decide where she stands...
Perfect for fans of Sarah J Maas and Holly Black, Caroline's Scottish upbringing and influences shine through in The Four Treasures series and teenage and young adult readers will delight in returning to the enchanting world of Eilanmor. With LGBTQ+ characters, as well as themes of self-discovery, loyalty, and love, there is something for everyone in The Cauldron of Life.
Reviews
Linda
This is the second book in the Four Treasures Novel series and once again the author Caroline Logan delivers a unique, well written magical adventure full of mystical beings from Scottish culture and legends.

At the end of book one, Harris, the selkie was captured by the Faerie Queen and Ailsa discovered she was half fae and she had magic in her body that she has yet to learn how to use and contain. Just how powerful is she, and will her magic help her to rescue Harris? Is she the real daughter of the Fae Queen, Nicnevan?

She embarks on this rescue with Angus, Gris and Iona and as they travel deep into the heart of Eilanmor they come across prejudice from villagers, anger from the unnatural and for Ailsa help and understanding from an unlikely character; who has two wonderful sidekicks that any reader would be happy to have in their home as a protector.

The author has managed to add quite a few themes into this mysterious, magical story which include, LGBTQ characters, loyalty, trust and self awareness making it a suitable read for 14+ readers. I also feel that this series would be great for book clubs and intervention groups as there are quite a few topics for discussion.

The Cauldron of Life contains 452 pages of adventure that is not for the faint hearted as there are some scenes of death and torture but nothing in too much depth. Please believe me when I say, when the fae with wings buzz around their heads, they are nothing like tinkerbell!! The interaction between the characters is believable and provides a lightheartedness along with the beginnings of a romance, or two!

I loved every minute in this fantasy world and I wish I had book three at hand to continue the story with these unique characters so that I could see how they have grown and developed. Fingers crossed that The Sword of Light ends up on my bookshelf soon. A highly recommended fantasy series for 2020.

425 pages / Ages 14+ / Reviewed by Linda Brown, school librarian
Suggested Reading Age 11+
Stephen
"Can we do anything to stop this fate?" asked Iona, finally. "Turn around," the Bean-Nighe said simply, "Choose the other path."

The Cauldron of Life is the second instalment in the Four Treasures series by Caroline Logan and takes us back to Ossiana and Eilanmor, a world where fae and mythical creatures exist, and a girl called Ailsa may be the key to the survival of Eilanmor. All this delivered with an undercurrent of Scottish mythology and magic.

After the discovery of her magic powers and potential powerful parentage, Ailsa has a lot on her mind. She must explore and harness her new powers if she has a hope of saving the selkie Harris from captivity and discover the truth behind the claim that she is the daughter of the evil queen of the faeries Nicnevan. But the land of Ephraim where the faery queen and Unseelie Court reside doesn't appear on any map of Eilanmor so giving Ailsa and her companions Angus, Iona and Gris food for thought as they set out to find it. Things don't go to plan for Ailsa, who ends up being captured and given as a sacrifice to the demons of the woods by the residents of a cursed village who have a distain for anything fae - like Ailsa. Yet this demon is different from everything Ailsa thought she knew about them, which is a relief on one hand but unnerving on the other. Meanwhile Iona, Gris and Angus seek the help of a Bean-nighe to help find Ailsa and learn about their fate, and Harris finds it's out the fire and into the frying pan after escaping wicked Ceasg only to meet the evil Nuckelavee!

This is another excellent adventure from Caroline Logan, who takes us deeper into the worlds and myths of Ossiana. There are more elements of Scottish mythology and folklore woven into the story, included some dark creatures - the Bean-nighe (the washer woman) and the Nuckelavee (a horse like demon from Orcadian mythology). I don't fancy meeting either of these creatures!

There are great twists and turns throughout the novel, taking the story in places I didn't expect. While I found the different story lines intriguing, the one that stood out for me was between Ailsa and Maalik - the demon she is 'scarified' to. Maalik is a troubled soul and I really cared about what happened to him out of all the characters as I think other readers will too. Even demons have their own demons to deal with, and the insight into this demonic world was fascinating!

One thing I would have appreciated was a glossary of mystical creatures featured which would have been useful to refer to as part of the novel, rather than having to jump on the internet to look them up. While I felt there wasn't the same sense of pace and urgency in much of this novel as in The Stone of Destiny, when the adventure and action does happen it is explosive - literally at points!

The ending had my mind racing with ideas and thoughts of what could happen in the next novel. I look forward to finding out what's in store for Ailsa and her companions in 'The Sword of Light'. I do hope there will be more demons!

452 pages / Ages 14+ / Reviewed by Stephen Leitch, school librarian
Suggested Reading Age 11+
Other titles