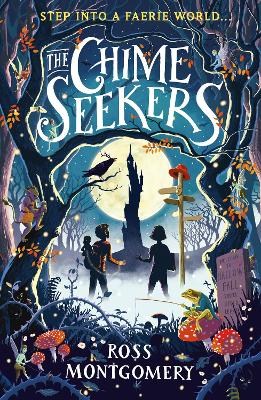 By Author / Illustrator
Ross Montgomery
Genre
Fantasy
Age range(s)
9+
Publisher
Walker Books Ltd
ISBN
9781406391190
Format
Paperback / softback
Published
04-11-2021
Synopsis
Heart-stopping fantasy from the Costa-shortlisted and critically acclaimed author of the bestselling The Midnight Guardians.
Step into a world of faerie tricks and hidden danger...  When an evil faerie steals Yanni's baby sister and swaps her for a changeling, Yanni is swept into a dangerous race against time to get her back.  For faeries delight in tricks and rescuing her won't be easy. With the help of his cousin, Amy, and the reluctant changeling, Yanni must travel to goblin palaces and battle-swept oceans, discovering ancient treasures and secrets along the way.  Yanni will need every drop of courage and even a few tricks of his own, if he's to outwit the faerie and save his sister...
Ross Montgomery brings the magical world of British folklore to life in this contemporary fantasy novel. Bursting with Ross's trademark charm, humour and heart, and with echoes of David Bowie's Labyrinth, The Chime Seekers is perfect reading for fans of Emma Carroll, Piers Torday and David Solomons.
"A quest like no other: Ross Montgomery is on spectacular form in this brilliant, edge-of-your seat story." Emma Carroll.  "Very page-turny, with enough funny bits to stop it being too scary." Philip Reeve
Watch the Book Trailer for The Chime Seekers
Reviews
Jacqueline
Yianni has moved to Fallow Hall. He hates his new home and hates his baby sister who has forced the move. He feels his parents are shutting him out and he is angry and miserable. Then Yianni makes a terrible mistake and is tricked into handing over his baby sister to the evil faerie Lorde Renwin. In return, he is handed a changeling. Together with his cousin Amy, Yianni has to travel to the land of the faeries to rescue his sister and return before midnight or risk losing her forever.
Written during lockdown, this book has all the claustrophobia of being shut indoors and more magic than you can possibly imagine. This is a breakneck-speed fantasy adventure which is so absorbing I nearly forgot to get off the train. With elements of the downright scary, including a scene reminiscent of Dr Who, the reader might think the ending will work out ok, but is taken on a journey of hair-raising near disaster. I found myself internally screaming at Yianni not to do certain things and Lorde Renwin is a terrifying villain who manipulates and tricks the children at every turn. The cemetery scene is going to stay in my mind for quite a while……
The beautiful cover by David Dean, along with the illustrations within the book, lend a suitably gothic feel to the story. This would make a great book to read aloud, due to the number of cliff-hangers and awful decisions Yianni makes throughout the story. Suitable for upper key stage 2.
384 pages / Reviewed by Jacqueline Harris, teacher
Suggested Reading Age 9+
Hayley
The Chime Seekers is an enchanting new adventure story from Ross Montgomery. This haunting masterpiece is brimming with magic, quests, acceptance and friendship. The story allows us to step into a world of faerie tricks and hidden danger, a world of peril and adventure.
Yanni is the main character and his world is turned upside down when his parents decide to relocate to the peculiar village of Fallow Hall. Yanni is not an only child; he has a screaming baby sister, Ari. Ari is one of the reasons why his parents have decided to move and Yanni is resentful about this. The village of Fallow Hall is riddle with strange tales of disappearances, magic and mystery and on All-Hallow's Eve, when his cousin Amy comes to babysit, Yanni finds that his raging outburst leads to an unexpected visit from an evil faerie. Lorde Renwin tricks Yanni into giving him his baby sister and he takes her to the Land of Fae, leaving in her place of hissing, biting baby changeling.
Overwhelmed with guilt, Yanni decides to rescue his sister with the help of his cousin, Amy. They find the magical entrance to the Land of Fae and, with the help of a magical signpost, track down the evil Lorde Renwin in the mirroring world – Hallow Fall. In an attempt to get his sister back, Yanni finds himself entangled in a wager with the evil faerie and needs to complete a quest in order to win her back. He has to navigate his way around goblin palaces, enchanted ruins and battle-swept oceans before the clock strikes midnight and he is stuck in Hallow Fall forever.
This is a thrilling read. I would highly recommend this book to any upper key stage 2 pupil because the plot is enchanting and full of empowering themes. Children will be taught about perseverance, acceptance, courage and friendship. Yanni's character is constantly evolving and children will be able to relate to this whilst being enthralled by the realm of Hallow Fall and its inhabitants.
This book would be an excellent class read and will eagerly enthuse children's reading for pleasure.
380 pages / Reviewed by Hayley Summerfield, teacher
Suggested Reading Age 9+
Other titles