The Crooked Mask (sequel to The Twisted Tree)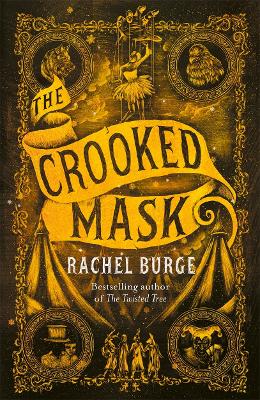 By Author / Illustrator
Rachel Burge
Genre
Supernatural
Age range(s)
14+
Publisher
Hot Key Books
ISBN
9781471409202
Format
Paperback / softback
Published
21-01-2021
Synopsis
Part ghost story, part murder mystery - a creepy and magical tale steeped in Norse myth, perfect for fans of Neil Gaiman.
Welcome to the Circus of Myth & Mayhem - where performers re-enact tales of the Norse gods wearing masks which mysteriously change expression, the creepy jester isn't quite human, and the big top is full of the dead.  Martha arrives at the circus, deep in the forests of Northern Norway, determined to learn how Nina died. Did she fall from the trapeze as Stig said, or was there more to her 'accident?' Drawn into a dangerous game of the gods, Martha must look behind the mask and see the truth... before it's too late.  Following the events of THE TWISTED TREE, THE CROOKED MASK continues the story of Martha and Stig as she comes to terms with her magical inheritance.
Praise for The Twisted Tree:  A creepy and evocative fantasy likely to make readers wary of the shadows in the corner of an eye, The Sunday Times.  Rattles along with proper page-turning pace, The Daily Express.  Creepy and amazing, MTV UK.  Creates an atmosphere of Stephen King intensity, The Irish Examiner.
Other titles