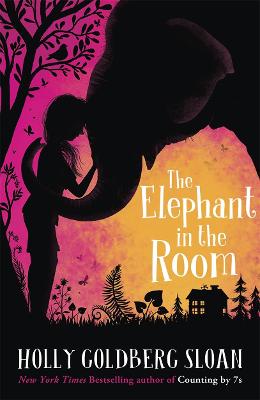 By Author / Illustrator
Holly Goldberg Sloan
Genre
Real life
Age range(s)
9+
Publisher
Bonnier Books UK
ISBN
9781800780002
Format
Paperback / softback
Published
05-08-2021
Synopsis
It's been almost a year since Sila's mum travelled halfway around the world to Turkey, hoping to secure the immigration paperwork that would allow her to return to her family in the United States.The long separation is almost impossible for Sila to bear. But things change when Sila accompanies her father (who is a mechanic) outside their Oregon town to fix a truck. There, behind an enormous stone wall, she meets a grandfatherly man who only months before won the state lottery. Their new alliance leads to the rescue of a circus elephant named Veda, and then to a friendship with a unique boy named Mateo, proving that comfort and hope come in the most unlikely of places.A moving story of family separation and the importance of the connection between animals and humans, this novel has the enormous heart and uplifting humour that readers have come to expect from the beloved author of Counting by 7s.
Reviews
Lisa
A heart-warming story of Sila who is desperately missing her mother after she is sent away for immigration issues. As weeks turn to months, she becomes withdrawn, sad, and lonely until her father takes her to work with him one day to a farm out of town. Here Sila embraces a friendship with the farm owner who has his own story to tell. Through this friendship and another unlikely new friend she makes during a school programme, all Sila's dreams and prayers are answered.
I read this book from start to finish as quickly as time would allow, I couldn't put it down! Pure joy came from the positive messages told in the story of the connection between both humans and between humans and animals. This book is a wonderful story for children of any age, either to have read to them, or for older children who are able to access it independently.
In the classroom. The Elephant in the Room would make a fantastic read aloud book for a KS2 class. It is great example of a chapter book which tells a story told from different characters perspectives. It allows readers to connect to all of the well-developed, multi layered, characters and empathise with each of their situations. It would spark great conversations in the classroom not only about family culture and immigration, but more importantly how people from different cultural backgrounds are able to come together and support one another. I highly recommend this book, one of my new favourites!
256 pages / Reviewed by Lisa Watkins, teacher
Suggested Reading Age 7+
Jennifer
The Elephant in the Room is a beautiful, gentle and moving story of the pain of family separation and of the support in finding new friendships. In the USA, Sila and her father have spent a year living apart from her mother, currently trapped unfairly in Turkey whilst immigration issues prevent her return to her longing family. Sila is becoming increasingly withdrawn, lonely and is struggling in school, so much so that she is paired with autistic pupil, Mateo, in a school program to support both pupils' social isolation. When Sila accompanies her mechanic father on a job for an elderly recluse state lottery winner, Gio, it sets in motion a very unusual chain of events that changes all of their lives.
Bereft Sila and isolated Gio discover connections in the form of his late wife and through a shared love and obsession in the unlikely form of Veda, a rescued circus elephant. Sila's initial forced friendship with Mateo grows as she learns more about how he sees the world as does Gio's understanding of how to care for Veda but let her feel free once again. The bonds between the majestic animal and the humans who are captivated by her deepen, and friendships flourish with this new sense of purpose and joy that she gives to all involved.
The Elephant in the Room is an uplifting, heart-warming and humorous story. I love the ripple effect that each growing friendship and action creates along the way - even the problem of a huge amount of elephant poo becomes a driving force in creating links in the community and bringing more people together. The whole plot is painstakingly and intricately woven as Sila and Gio lead a search into Veda's heritage and whereabouts of her family and Mateo's lawyer mother learns of the unjust immigration restrictions on Sila's beloved mother. The story builds to a captivating closure full of promise and hope.
256 pages / Reviewed by Jennifer Caddick, teacher
Suggested Reading Age 9+
Other titles